Dragons hold off Clay's comeback bid to avenge loss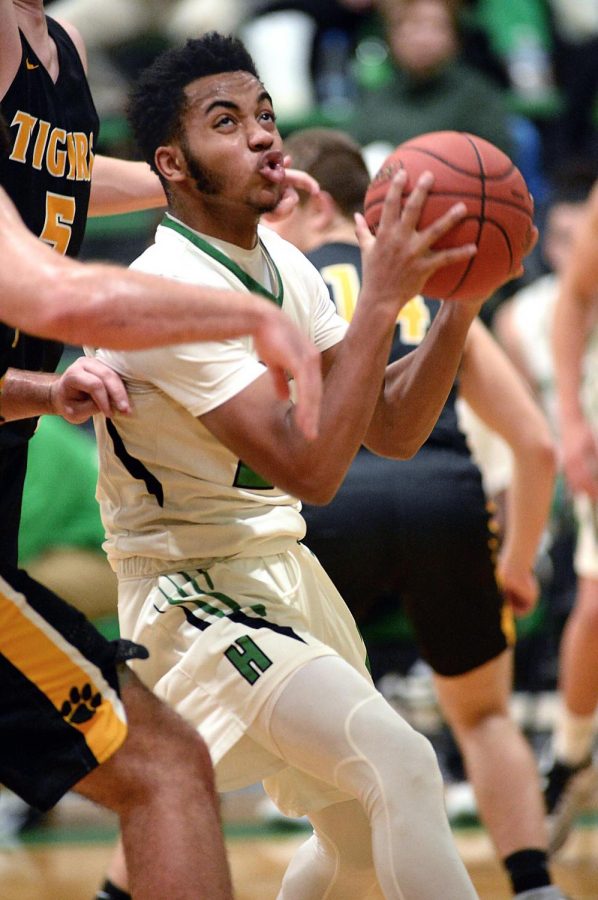 Ten days after a five-point loss in Manchester, the Harlan Green Dragons turned the tables in a rematch of two of the 13th Region's top teams. Harlan grabbed the lead for good late in the first quarter, took a 14-point advantage into the final period and then held off a late Clay rally to win 83-73 on Tuesday.
"A lot of it was made shots. We made some shots tonight we missed at Clay," Harlan coach Derrick Akal said of the difference in the two games. "Not to use excuses, but I think that was our third game in a row. We had some dead legs and missed shots, but I think Clay had a lot to do with our misses. We made the shots tonight."
Akal said Clay's comeback, which cut the deficit to five with just over two minutes to play, will help prepare the Dragons for the postseason.
"We lost a game like that against South last year in the regional tournament. We had a 14- or 15-point lead, then started turning It over and lost our focus," Akal said. "To grind one out against a good team was good for us."
Junior guard Jordan Akal scored 25 points to lead the 12-5 Dragons. Jaedyn Gist contributed 19 points. Kaleb McLendon added 12.
Senior guard Connor Robinson poured in 31 points for the 11-6 Tigers. Connor Farmer added 19 points.
Making his first varsity start on Senior Night, Trey Barnes helped the Dragons get off to a good start with three straight 3-pointers in the opening quarter. McLendon also hit three straight shots as Harlan built a 22-17 lead. Robinson kept the Tigers close by hitting five of eight shots for 11 points.
"Trey kind of set the tone. I think he gave us some energy and confidence," Akal said. "I tell the kids all the time that the easiest shots are layups and wide open 3s, so he hit the shots he's capable of hitting."
Gist and Akal each had three baskets in the second quarter as the Dragons began to pull away, using a 13-2 run to go up 38-21. Farmer and Robinson sparked a late Clay run that cut the deficit to 41-28 at the break.
Clay picked up its energy level on the defensive end in the second half and hit seven of its first eight shots but could cut only one point off Harlan's lead. Each team hit 10 of 17 shots in the quarter as the Dragons took a 64-50 lead into the final quarter. Akal and Gist each had three baskets for Harlan, while Robinson had three baskets and Raven Abner hit two 3s for Clay.
Robinson and Farmer led Clay's comeback in the fourth quarter, teaming for seven baskets. The Tigers also forced Harlan into eight turnovers in the quarter and got as close as 70-65 with 2:25 left. Akal pulled up for a back-breaking 3-pointer with 1:46 left that took most of the steam out of the Tigers' comeback.Kaleb McLendon, Will Austin and Akal each hit free throws in the final minute to put the game away.
"I'm proud of my guys," Akal said. "That's a really good basketball team, one of the top teams in the region every year. For us to get the win at home against that kind of team, we're happy,"
Harlan will travel to Leslie County on Saturday. Clay County will travel to Red Bird on Thursday.
———
Less than two weeks after suffering a 40-point loss at Clay County, the Harlan junior varsity team pushed the Tigers to the final seconds before falling 50-48.
Tate Rice scored 17 to lead the Tigers. Hayden Harris and Hayden Crockett added 13 and 12 points, respectively. Brady Wolfe scored six. Luke Nicholson added two.
Jared Moore led Harlan (0-9) with 17 points. Matthew Pennington scored 10, followed by Johann Gist with nine, John Bryson with eight, Derek Pruitt with three and Darius Akal with one.