Lady Bears take control with 33-point quarter in win over Red Bird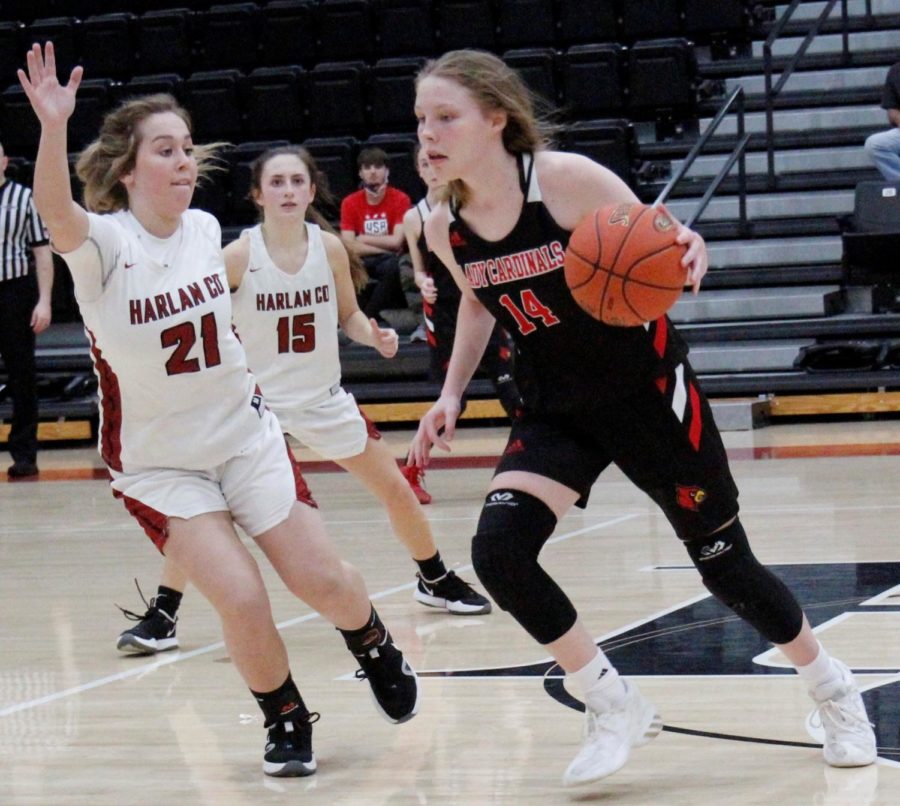 The Harlan County Lady Bears have gone through their share of extremes during the 2021 season. They experienced both very bad and very good in their regular-season finale Thursday against visiting Red Bird.
Harlan County hit only one of 15 3-point attempts in the first half and was clinging to a four-point lead at halftime. The Lady Bears picked up their defensive pressure in the second half and exploded for 33 points in the third quarter on the way to a 73-37 rout.
"It wasn't that we were taking bad shots. Sometimes they just don't go in. The game looks much simpler when the shots fall. Stuff like that happens," Harlan County coach Anthony Nolan said. "I told them at halftime they were going to let us take those shots until we make them, but we have to change the look of the game. We switched our defense to go a little more fullcourt and that ignited our offense."
Freshman guard Ella Karst scored 18 points and senior wing Jacey Lewis added 17 to lead the 9-11 Lady Bears, who honored their four seniors (Lewis, Kelly Beth Hoskins, Kassy Owens and Haley Middleton) before the game.
"I thought our depth would be a difference in the second half, plus we were on our toes more the second half instead of our heels," Nolan said. "We took good shots the first half, but we settled too much instead of attacking."
Karst hit four of five shots in the third quarter, part of an 80 percent (12 of 15) shooiing performance by the Lady Bears. Lewis and Owens added two baskets each as the lead grew to 52-22 by the end of the period.
Nolan went to his bench in the fourth quarter and several reserves contributed as Taytum Griffin, Kylie Jones and Leah Davis had baskets .
Junior forward Jaylin Smith, seeing her first action in a couple of weeks, had baskets in all four quarters while leading the team with eight rebounds.
"We've had some unfortunate circumstances lately, and it's good to get Jaylin Smith back. She does a lot of little things for us, and there were a couple of tight games we probably could have pulled out if we had her available," Nolan said. "I think our kids are more confident with her on the floor.
"We have a couple of days to get ready for the district tournament. I like our attitude, and we have a great group of seniors with a great work ethic. I'm excited for the postseason."
Junior guard Alyssa Gibson scored 17 points to lead the 6-16 Lady Cardinals.
Harlan County will play Middlesboro on Monday at 8:30 p.m. in the first round of the 52nd District Tournament at Harlan. Red Bird (6-16) will play host Barbourville on Friday.