Lady Bears bounce back from district loss with rout of Harlan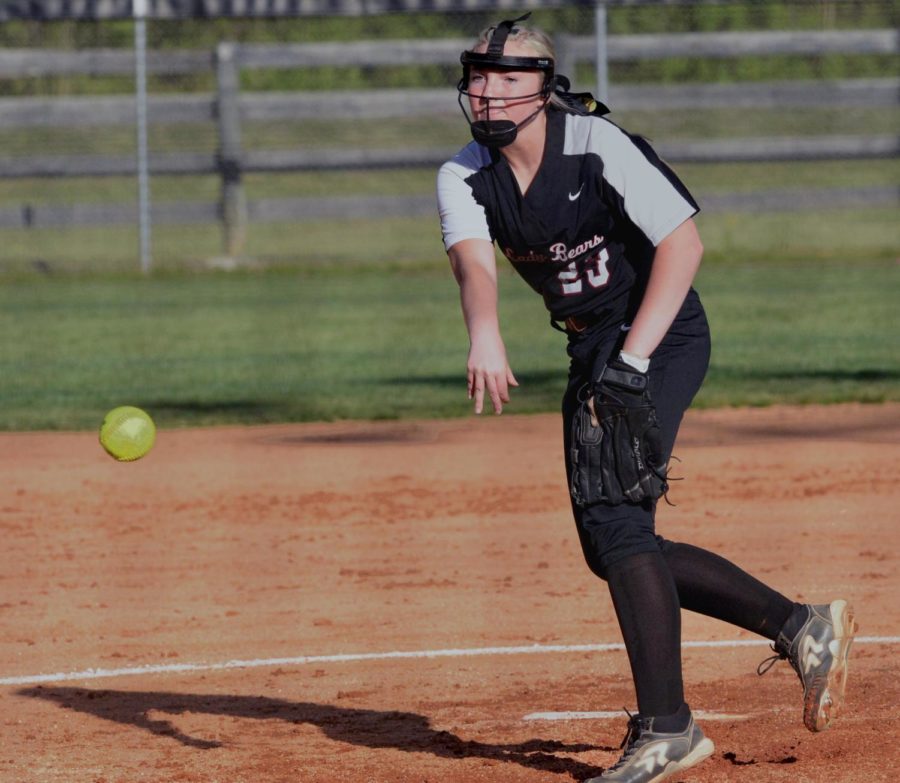 Winners of four straight 52nd District Tournament titles, the Harlan County Lady Bears' hopes for five straight suffered a blow on Tuesday in an 8-0 loss at Middlesboro that featured eight HCHS errors.
The Lady Bears bounced back Friday in a 15-0 four-inning win over visiting Harlan. It was an error-free game for HCHS as pitcher Kerrigan Creech threw a one-hitter with six strikeouts and two walks.
"Kerrigan definitely threw better and we had no errors. I will take no errors right now," Harlan County coach Tim McElyea said. "We have a tough test with Letcher tomorrow, but today was an improvement."
Harlan County (7-2 overall, 3-1 district) pounded out 11 hits, led by Brandy Adams with a double and single and Jacey Lewis, Hailey Austin and Maddy Blair with two singles each. Josalyn Lee and Britleigh Estep added doubles. Creech had a single.
"A lot of is timing on offense. I think we'll be OK," McElyea said. "We didn't play well at Middlesboro and we still have a lot of tough games left with a month to go."
Eighth-grade catcher Addi Jackson broke up Creech's no-hit bid with a double to center with one out in the fourth inning.
Mallory McNiel pitched a complete game with two strikeouts and two walks.
Lewis, Austin and Adams opened the game with hits as HCHS scored 10 times in the first inning. Creech and Blair also had hits, then Austin drove in a run with her second hit of the inning before McNiel worked out of trouble. Mackenzie Snelling recorded two straight outs on force outs at third base.
Lee had a double to open the second inning,, then scored on Blair's hit. Lewis singled, then Adams was hit by a pitch with the bases loaded. Allee Galloway drove in a run with a ground out, then Estep doubled in the 14th run.
Lewis was safe on an error to open the fourth inning, then scored the game-finishing run on Adams' single — her fourth RBI of the night.
Harlan County returns to action Saturday at noon at Letcher Central. Harlan (0-7 overall, 0-3 district) will play at Cumberland Gap, Tenn., on Saturday at 1 p.m.
———
The Lady Bears were limited to three hits in the loss at Middlesboro as Austin, Adams and Creech each had singles.
Creech suffered the loss, giving up four earned runs on eight hits with four strikeouts and no walks.
———
Harlan fell 17-3 to Bell County on Tuesday.
Faith Hoskins, Kendyll Blanton and Addison Jackson had singles for the Lady Dragons. Jackson and Mackenzie Snelling each drove in runs. Hoskins, Jackson and Abbi Fields scored runs.
Mallory McNiel pitched a complete game with six strikeouts and eight walks.
———
Harlan 000 0 — 0. 1. 6
Harlan County (10)40 1 — 15. 11. 0
McNiel and Jackson; Creech and Adams. WP — Creech (7-2). McNiel (0-7).
———
Harlan County 000 000 0 — 0. 3. 8
Middlesboro 122 102 x — 8. 8 1
Creech and Adams; Miller and Marcum. WP — Miller. LP — Creech (6-2).