Dixon pitches 6 shutout innings as Bears blank Leslie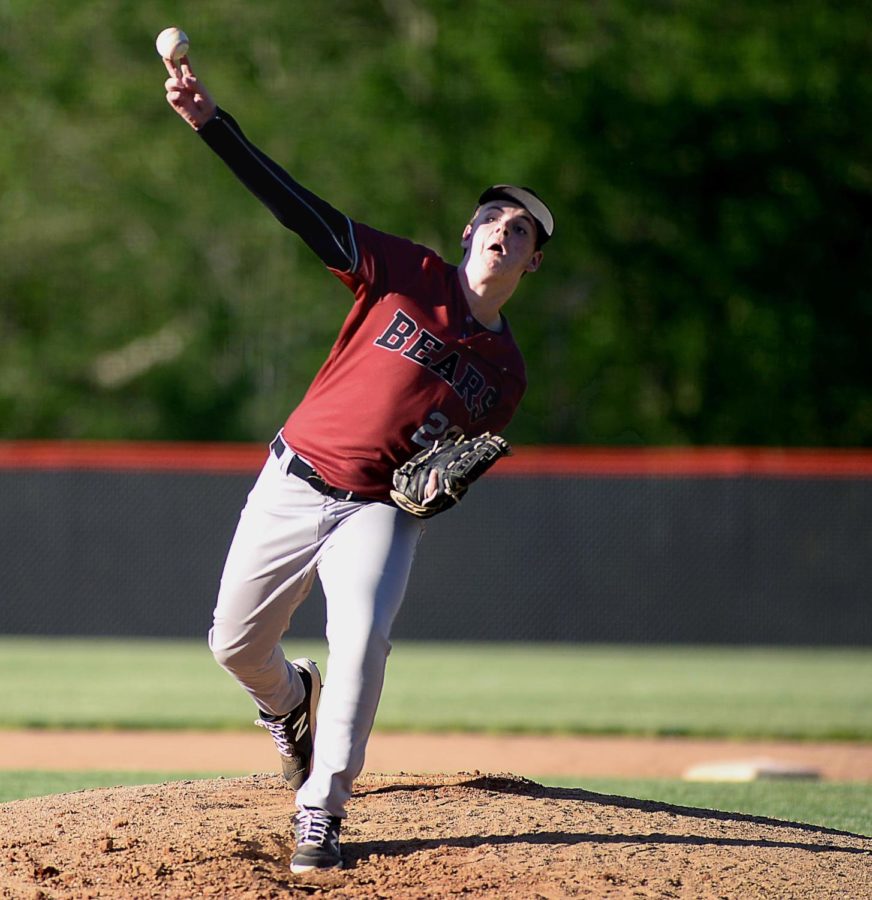 Karsten Dixon put together the strongest pitching performance of his high school career on Wednesday as he gave up only one hit in six shutout inning as Harlan County blanked visiting Leslie County 7-0.
Dixon struck out five and walked one as he threw only 59 pitches.
"Karsten pitched great tonight! He attacked their batters and got ahead all night," Harlan County coach Drew Chamberlain said. "Overall, we played much better. We went from 13 strikeouts yesterday to only one strikeout today. We put the ball in play and put pressure on their defense…and that's the name of the game."
Eighth-grader Alex Creech completed the shutout as he gave up two hits and struck out one in one inning.
Jonah Swanner had three hits from the leadoff spot to lead the HCHS offense. Tristan Cooper drove in three runs with two hits. Jacob Brown scored twice on two hits. Isaac Kelly, Brayden Blakley, Josh Swanner and Dixon added one hit each.
Cooper drove in Swanner with a hit as HCHS took a 1-0 lead in the first inning.
The Bears added three runs in the second inning. Blakley and Josh Swanner led off with hits and both moved up a base on Dixon's sacrifice. Brown and Jonah Swanner had RBI his and Nate Shepherd made it 4-0 with a sacrifice fly.
Dixon singled in the fourth inning and eventually scored on a passed ball.
Brown started a two-out rally in the sixth inning with a hit. Jonah Swanner was hit by a pitch. Two runs scored on Cooper's hit.
Harlan County (8-13) plays host to Pike Central on Friday.
———
Leslie County 000 000 0 — 0 3. 1
Harlan County 130 102 x — 7. 11 0
Couch, Baker (3) and Shell; Dixon, Creech (7) and Kelly. WP — Dixon (1-1). LP — Couch.
———
The Bears were limited to one hit Tuesday in an 11-1 loss at South Laurel. The Cardinals blew the game open with a five-run third inning, then ended it with a four-run fifth.
Tristan Cooper singled for the only HCHS hit. Cooper also suffered the loss on the mound.
Harlan County fell 10-4 to Hazard as Andrew Ford pitched a four-hitter for the Bulldogs.
Cooper, Zac Collett, Brayden Blakley and Josh Swanner each had hits for the Bears.
———
Harlan County 000 01 — 1. 1. 2
South Laurel 105 14 — 11. 9. 2
Cooper, Blakley (3) and Kelly; Byrd and Marcum. WP — Byrd. LP — Cooper (2-4).
———
Harlan County 000 004 0 — 4. 4. 4
Hazard 230 122 x — 10 10 1
Shepherd, Blakley (3), Cooper (6) and Kelly; Ford and Mullins. WP — Ford. LP — Shepherd (1-3).