Bears rally with 5-run seventh to earn a spot in district finals
Middlesboro scores six in 6th inning to down Bell County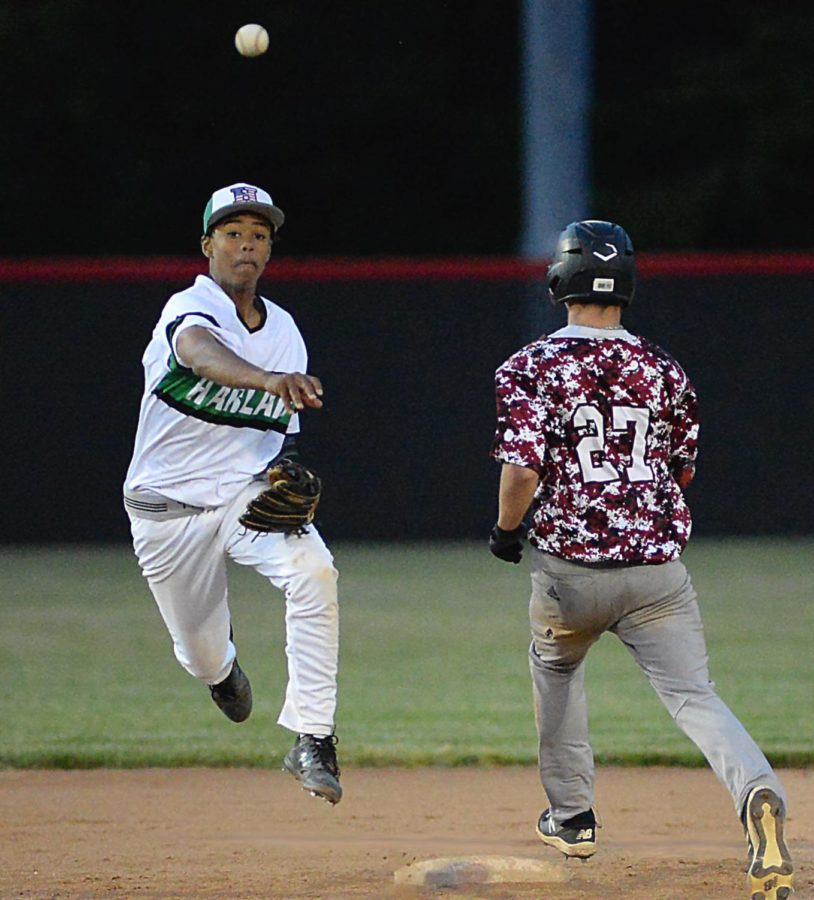 Thoroughly beaten through the first six innings of Monday's 52nd District Tournament game against Harlan, the Harlan County Black Bears found a way to extend their season with a heart-stopping five-run seventh inning to edge the Green Dragons 5-4.
"It's always tough when you play them because you know the rivalry is there and the juices are flowing," Harlan County coach Drew Chamberlain said. "I felt like we came out tight and made some mistakes. I thought we got a little tight at the plate, then when you get behind you get even tighter. They just never gave up, and I'm proud of our guys for that."
Harlan did not make an error through the first five innings but had three in the decisive seventh inning, beginning when Tristan Cooper reached on an error to open the seventh. Brayden Blakley followed with a single, then Josh Swanner hit a grounder back to Evan Browning on the mound. Browning tried to get the lead runner but his throw sailed past third base for the Bears' first run. Blakley scored on a balk and Swanner scored on a wild pitch to make it 4-3. After walking pinch hitter Braydon Burton, Browning was replaced on the mound by Noah Lewis.
Lewis struck out Will Cassim, but then gave up the tying sacrifice fly to Jonah Swanner. Nate Shepherd followed with a single, then Zac Collett was hit by a pitch. Isaac Kelly hit a grounder to Donovan Montanaro at short and his throw to first was high, allowing Shepherd to hustle all the way home from second to win the game.
"I don't want to take nothing from those guys because they fought hard and put themselves in position to win. We made some mistakes and sometimes that's what life gives you — hard lessons," Harlan coach Cory Estep said. "I will go fighting with my team 400 days a year, if there were 400 days."
Harlan had made all the plays defensively through the first five innings, led by Montanaro and third baseman John Mark Bryson each taking away hits with great defense. Browning struck out nine and walked three and allowed only three hits in six-plus innings on the mound.
"He ran out of pitches and we brought in Noah, who has been our closer all year," Estep said. "We just made some mistakes, but I will still fight with my team, all the time any time."
Browning was also especially troublesome for the Bears on the base paths as he walked in the first inning and scored the game's first run when he stole home. Browning reached on an error in the third inning, then stole a base and scored on Shane Lindsey's hit. Browning walked in the fifth inning, stole two bases and scored on a wild pitch for a 3-0 lead.
Harlan added its final run in the sixth inning as Bryson walked and scored on Jared Moore's hit.
Jeremiah Mills added a hit in the seventh inning for the Dragons, who finished the season at 11-20.
Jonah Swanner, Shepherd, Blakley and Josh Swanner had hits for the 12-19 Bears, who will play Middlesboro in the district finals on Tuesday at 8 p.m. at HCHS.
Blakley gave up four runs on only two hits while striking out five and walking five in 5 2/3 innings on the mound. Cooper gave up one hit with three strikeouts and two walks in 1 2/3 innings to earn the win.
———
Harlan 101 011 0 — 4. 3. 4
Harlan County 000 000 5 — 5. 4. 2
Browning, Lewis (7) and Lewis, Browning (7); Blakley, Cooper (6) and Kelly. WP — Cooper (3-4). LP — Lewis (0-3).
———
Middlesboro broke open a tie game with a six-run sixth inning on the way to an 8-2 win over Bell County in the opening semifinal Monday.
Riley Gent and Connor WInterberger opened the sixth inning with singles, then Chase Adkins walked to load the bases. Eric Helton cleared the bases with a single followed by an error on the throw home. Kam Wilson, Warren Vaught and Gent added RBI singles later in the inning.
Tyler Harris pitched a three-hitter with 13 strikeouts and no walks to earn the win.
Mason, Harris and Gent each had three hits for the Yellow Jackets. Winterberger, Chase Adkins, Helton, Wilson and Vaught added one single each.
Alex Mayes led Bell County with a double and single. Daniel Thomas added a double.
Cole Hoskins pitched five-plus innings, giving up six runs on eight hits with four strikeouts and one walk. Mayes gave up two runs on two hits. Hayden Clark allowed one hit and one walk as he recorded the final three outs.
———
Bell County 100 001 0 — 2. 3. 2
Middlesboro 100 016 x — 8. 11 2
Hoskins, Mayes (6), Clark (6) and Walters; Harris and Gent. WP — Harris. LP — Hoskins.