Middle school Bears find new conference with an old name
Old CVC featured county high schools from 1927 to 1984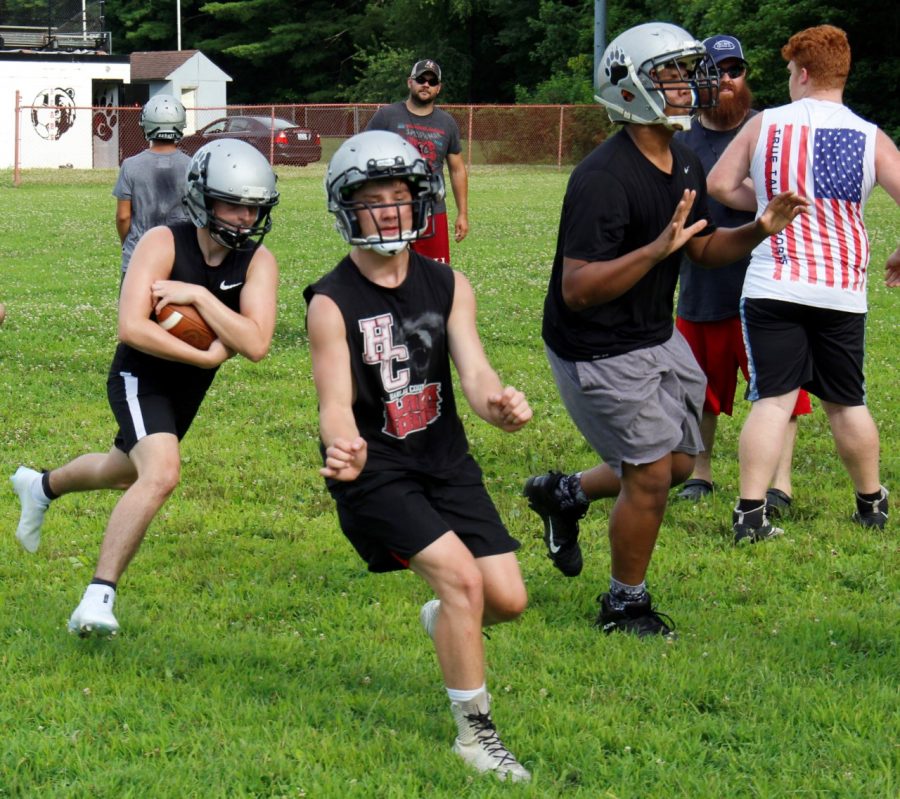 In only their second season as a program, the Harlan County Black Bears' seventh- and eighth-grade teams are connecting with county football history as a new member of the Cumberland Valley Conference.
The middle school league, now with 10 teams across seven counties after a recent expansion, was formed several years ago and took the same name as a former high school league that was disbanded in the mid 1980s after featuring numerous Harlan County teams going back to its start in 1927.
"I used to have a couple of lettermen jackets with All-CVC on them," said Harlan County middle school coach Scott Caldwell, a 1985 Cawood graduate who played on several outstanding Jim Cullivan teams in that era. "It tickles me to death. I haven't really told the boys yet about all the history and all the great football in that conference, but I plan to before our first game."
Harlan County, which formed a combined middle school team last year with separate eighth-grade and seventh-grade squads, was added to the league, along with Corbin and Meece.
"The head coaches of the conference serve as the board members and we wanted to grow this conference into the best middle school conference in the state," said South Laurel coach Ryan Flynn, the league president. "When you look at the teams in our conference you see a lot of variety in approaches. This will help us, collectively, go deeper into the playoffs."
Flynn said league members have combined for 17 middle school state championships. One reason behind the success, he says, is the great competition the league provides.
"You have a top-notch coach in Scott Caldwell, and we wanted to add Harlan County to the conference, and that's when we came up with divisions," Flynn said. "Harlan County brings a lot to our conference. Their style of play is similar to Belfry. You can't duplicate in practice what you see against Harlan County on Thursday. When we played them last year, we couldn't stop the run but we burned them up with the pass. The games are learning experiences for the playoffs and give you a chance to see where your weaknesses and strengths are."
Every team in the league plays all four of their divisional opponents with two rotating opponents from the other division. Harlan County will have home games this season against North Laurel, Clay County and Corbin and road games against Whitley County, Meece and South Laurel. Non-conference opponents include Danville, Bell County and Bourbon County, in addition to a bowl game at Bell County.
"That kind of competition makes your kids take it to a higher level," Caldwell said. "Our kids have taken it seriously. They want to represent Harlan County well."
League officials put together the conference schedule each season, locking in six games.
"This means we'll have an organized schedule and you don't have to look for so many games," Caldwell said.
"We don't have to worry about scheduling," Flynn said. "Our schedules are set in January."
Caldwell said he has been impressed with his Bears during the first of week of practice.
"Last year was crazy for everybody and our first year as a team. We spent a lot of time getting to know each other," Caldwell said. "It fell into place this year during our spring ball. Everything seems to be working great. We still have a few on vacation, but I think we'll have a good turnout this year with a real good seventh-grade group."
Harlan Daily Enterprise records for the high school CVC go back to 1938 when teams included Lynch, Benham, Harlan, Hall, Loyall, Evarts, Wallins, Barbourville, Pineville, Middlesboro, Black Star, Knox Central, Lynn Camp and Corbin.
Numbers in the league slowly declined, but Bell County and Cumberland were part of the conference in 1952 when an Enterprise story by Clarence Green focused on Lynch winning the league that year and dominating the 26th annual All-CVC squad.
Benham and Black Star closed in 1961, then Hall, Loyall and Wallins formed James A. Cawood High School in 1966.
A story on the 1971 All-CVC team featured Ed Miracle being named coach of the year after leading Lynch to its eighth and final appearance in the Class A state finals. The league also included Cawood, Evarts, Cumberland and Hazard. Harlan had moved to the Southeastern Kentucky Conference several years earlier, as did several other teams through the years.
Lynch closed after the 1981 school year and the league continued for three more years with only Cawood, Cumberland and Evarts, but it was clear that the end was near. The three remaining CVC members moved to the SEKC in August of 1984 as the Enterprise's Chris Jones reported while describing the history of the league.