Hopkins relishing second shot at senior season with Black Bears
Demarco Hopkins is determined to make the most of a second senior season with the Harlan County Black Bears.
Even though he was built something like a young Hershel Walker when he arrived at Harlan County High School in the summer of 2017, Hopkins didn't bring the resume of some of his more celebrated classmates who played on a middle school state championship team as eighth-graders. Hopkins spent his freshman year playing soccer instead of football. When he finally made it to the football field as a sophomore, Hopkins saw only limited action, running for 84 yards, then 350 yards as a junior.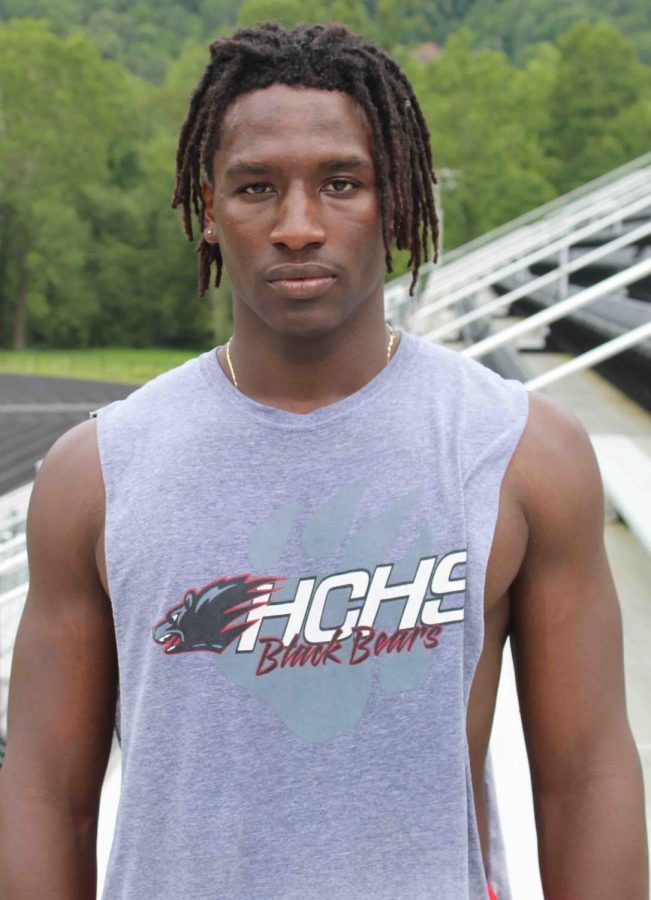 After an impressive off-season in the weight room, where he further chiseled his body, Hopkins became the Bears' primary ball carrier last fall. He got off to a slow start but put it all together toward the end of the season with 128 yards rushing against Perry Central, followed by 108 yards against Anderson County and 179 yards against East Jessamine in the Bears' final three regular season games.
"I finally figured out what I was supposed to do, and I feel I'm just now really learning how to play football," Hopkins said. "I ran too high for a long time but finally learned how to get low when running last season."
Hopkins finished with 892 yards as a senior and seemed to figure out the game just as his high school career was coming to an end. The news that the state legislature had approved an extra year for students around the state due to the coronavirus pandemic gave Hopkins another chance to prove himself and perhaps make up for his late start in the game.
"I thought I was working hard last year, but I'm working much harder now," Hopkins said. "It was amazing when I first heard I might get another year. It's perfect for me. My goal is to play in college."
Determined to change from a power back to one who could also win with speed, Hopkins transformed his body from 255 pounds to a lean and strong 210 pounds going into last season. He's down to just over 200 pounds at this point as he continues his almost daily workouts with trainer Brandon Bell at Brewer's Gym in Evarts.
"Physically he's very capable of running the football and he's got himself in super condition," Harlan County coach Amos McCreary said. "We're out here running every day, but he doesn't want out of there because of the shape he's got his body in."
McCreary hopes the Bears' shift to the Wing T will also play to Hopkins' strengths.
"I hope we can keep people from teeing off on us in this offense," said the first-year HCHS coach. "We need to be able to hold on to the football, and I think we'll have to do that. "
Hopkins will add more duties with the Bears this season as he sees his first extended action on the defensive side at outside linebacker.
"I told Demarco you never know what a college coach will see. We may see him as a running back, but they make look at him and see a linebacker," McCreary said. "I told him he didn't need to cut his chances by 50 percent, and he needed to learn to play on both sides of the ball. There will be a learning curve for him, but he's an athlete who will be playing out in space, so I think he will adjust to it."
"This is my first year playing defense, and I think it will give me more opportunities," Hopkins said. "I'm still learning."
While it's still early, McCreary has been pleased with the early returns on what he's seen from Hopkins.
"I think he's the kid who has made the least amount of mistakes out here. I know he's going home and thinking about it so he can have the best year he can have," he said.
McCreary believes Hopkins will make the most of his second senior season.
"Some guys who stayed back may not have taken it that seriously, but he has a dream of going on and playing at the next level," he said. "That's what he's told me, and I hope that dream will come true for him. I feel pretty good about his chances. They have to have the kind of work ethic. A lot of kids may think they are born to play, but you have to get out here and work, and he has as good a work ethic as any kid I've coached."