Bears edge Bell on Carr TD in closing seconds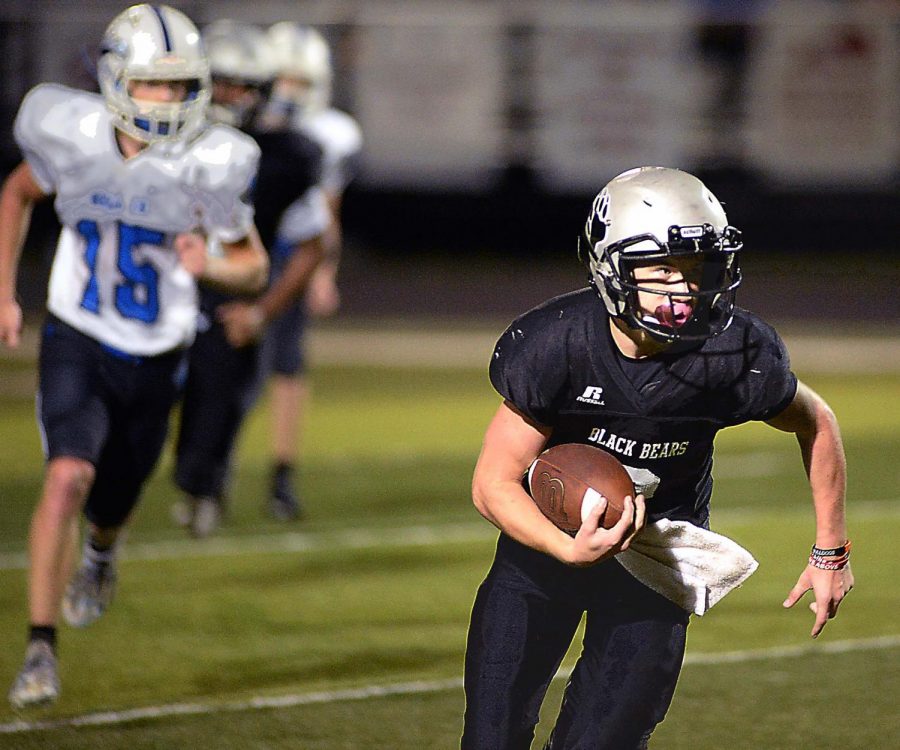 After watching two potential wins get away in the fourth quarter to start their season, the Harlan County Black Bears found a way on Thursday against visiting Bell County. The eighth-grade Bears broke a tie on a Shemarr Carr touchdown with 10 seconds left to claim a 28-22 victory.
"I'm extremely proud of our kids," Harlan County coach Scott Caldwell said. "We played a very balanced, well coached and tough Bell team and our kids refused to quit. We had some kids step up and make outstanding plays tonight. It's the best finish I've been part of in a long time and I'm just happy our kids got the win. We still have a lot to fix, however we are learning to finish and that's huge at this level."
Harlan County featured a balanced offensive attack as Gage Bailey ran for 55 yards on 14 carries, while Jayce Brown contributed 49 yards on seven carries and Carr added 45 yards on 12 carries. Connor Daniels completed three of three passes for 33 yards.
Hunter Napier set up the first Harlan County score when he intercepted a pass and took it back 45 yards to the Bell 11. Bailey scored on a 10-yard run and Carr added the two-point conversion.
Chance Sturgill recovered an onside kick and the Bears scored again still 6:23 left as Carr went in from the 2. Daniels threw to Napier for the two-point conversion and a 16-0 lead.
Bell pulled even with two touchdowns and two-point conversions in the second quarter.
Harlan County went back on top when Bailey, playing quarterback out of the wildcat formation, threw to Brown for a 35-yard touchdown with 12 seconds left in the first half.
Bell tied the game with a touchdown at the 4:19 mark of the fourth quarter, giving Harlan County just enough time for the game-winning drive.
Brown and Bailey led the defense with five tackles each. Ryan Coots added four.
Harlan County will play at Whitley County on Thursday in a seventh- and eighth-grade doubleheader.
———
Harlan County fell 28-6 to Bell County in fifth- and sixth-grade action.
Sam Carr led the Patriots with 78 yards on nine carries. Dyson Freeman added 75 yards on seven carries, including a touchdown. Braydon Howard had 54 yards on seven carries. Tyler Coots contributed 37 yards on six carries.
Tyler Coots led in tackles with six. Caleb Mitchell, Carr, Isaiah Baker, Mason Stewart, Easton Engle, Howard and Carter Caldwell added tour tackles each.
Harlan County will play host to Fleming-Neon on Thursday.
———
Harlan lost 28-8 to visiting Knott Central on Tuesday.
No statistics were available on the game.
The 0-3 Green Dragons will travel to Jackson County on Saturday.