Unbeaten Jackets roll past Harlan, improve to 4-0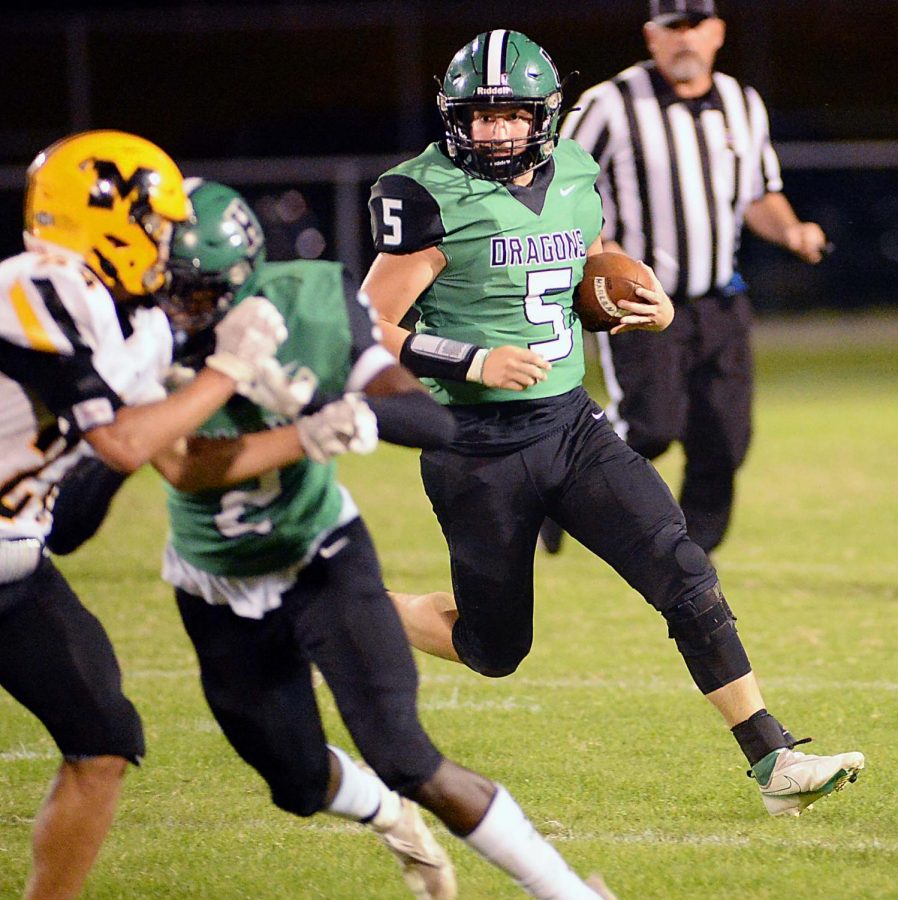 Celebrating their 100th year of football, the Middlesboro Yellow Jackets appear well on their way to a special season following a 44-6 win Friday at Harlan improved their record to 4-0.
Middlesboro pulled away with 38 unanswered points after Harlan held its own in a hard-fought opening quarter. The Jackets featured the same dynamic offense that has helped them earn a ranking among the state's elite 2A teams. Sophomore quarterback Cayden Grigsby passed for 173 yards and three touchdowns while adding 104 yards and another touchdown on the ground. Senior running back Caleb Bogonko added 109 yards and a touchdown on eight carries.
"We have some offensive weapons, but we have to learn to play good defense," said Middlesboro coach Larry French, who has led the transformation of a struggling Middlesboro program a few years back to a state contender this fall. "We don't play as well as I'd like on defense. We're not attacking. We're sitting back and playing on our heels. If we can come off the football and avoid foolish penalties I think we can be pretty good."
The Dragons lost senior lineman Jon Lewis to an injury on the game's opening play due to an apparent knee injury. Starting quarterback Cade Middleton went out late in the first half with a hip injury, then backup Darius Akal went out in the second half with an ankle injury. Donovan Montanaro, normally the second-string HHS quarterback, was sick this week and unable to play.
"They are very good and very athletic. We won't see anything like that up front again," Harlan coach Eric Perry said. "We lost our nose tackle the first play and had to scramble after that, then we went through five quarterbacks, including two who hadn't taken a snap. I thought we played pretty well for a quarter or quarter and a half. The second time we were down there and didn't score was a turning point. They can strike pretty quickly. They did what good teams do."
Grigsby opened the scoring by finding Kameron Wilson across the middle as he broke a tackle on the way to a 30-yard touchdown play.
Harlan answered with a six-play, 55-yard drive that featured a 12-yard pass from Middleton to Evan Browning and a 13-yard run by Jayden Ward. Middleton found Browning in the end zone for an 18-yard touchdown to tie the game with 3:28 left in the opening quarter.
"We weren't real focused and they hit us right in the mouth to start with. It took us a while to recover," French said. "Our defense was better the second half, but we still aren't tackling well. We're hugging instead of tackling. We have to learn to run through the ball carrier."
Bogonko dominated the next Middlesboro drive, running 34 yards before breaking free for a 20-yard touchdown run. Jay West went in for the two-point conversion and a 14-6 lead with 2:12 remaining in the opening period.
Grigsby showed his ability to run on the Jackets' next series as he broke free down the sideline on his way to a 65-yard touchdown. Grigsby found Kameron Wilson for a two-point conversion and a 22-6 lead with 9:33 left in the second quarter.
The Dragons recovered a Bogonko fumble midway through the second period but couldn't capitalize after putting in Darius Akal at quarterback out of the Wildcat formation. The Jackets needed only two plays to score again as Grigsby found Logan Daniels for a 57-yard touchdown pass. West added another two-point conversion for a 30-6 lead with 2:49 to play in the half.
Grigsby teamed with Wilson again, after another four-and-out by the Dragons, this time for a 40-yard scoring strike on a fourth-and-10. Jordyn Ferguson hit the extra point to make the score 37-6.
Middlesboro started a running clock with a three-play drive in the third quarter. Bogonko went 29 yards before Tyler Kelly went the final 18 for a touchdown. Ferguson's extra point closed the scoring with 7:53 left in the third quarter.
The Middlesboro defense continued to dominate, holding Harlan without a first down in the half until Browning ran 29 yards on the game's final play.
Harlan (2-2) returns to action Friday at Lexington Sayre. Middlesboro will play host to Breathitt County on Friday in a district showdown that will likely be the last tough test for the Jackets in their quest for an unbeaten regular season.