Bears place five in double figures to knock off Ohio squad in tournament finals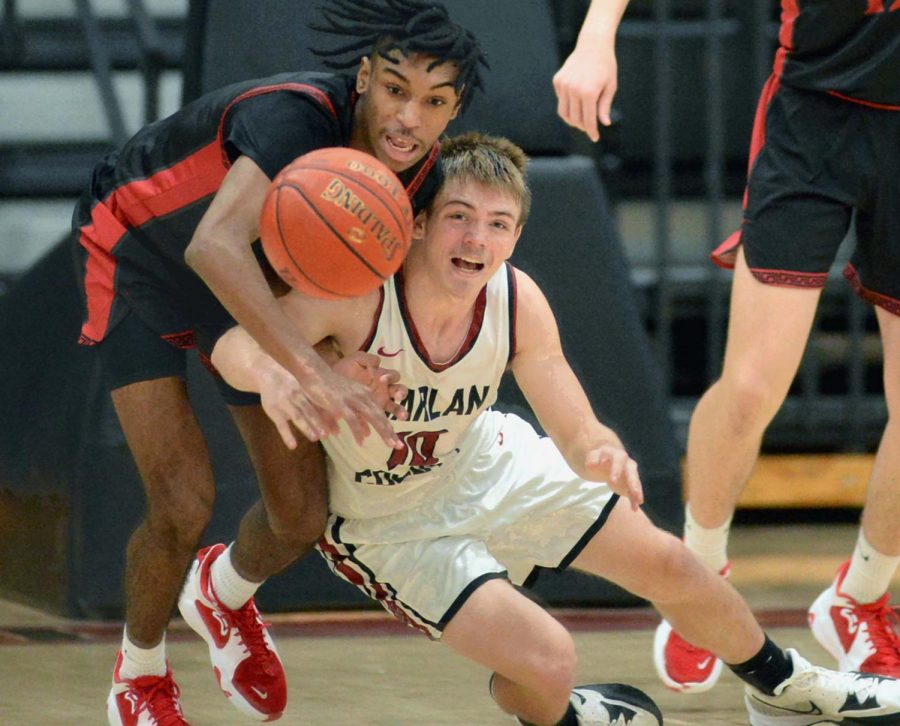 A one-man show was not going to get it done for the Harlan County Black Bears on Wednesday in the championship game of the Harlan County Hoops Extravaganza. The Bears needed balance against Lakota West, a 2,500-student school from the suburbs of Cincinnati that had rolled to wins on the first two nights of the tournament.
The Bears delivered with five in double figures on the way to a hard-fought 87-72 victory that saw Lakota West wipe out a 10-point deficit in the third quarter before HCHS reclaimed control on the way to its 10th win in 13 games.
"We're more than capable of having five in double figures night in and night out. It's a matter of knocking down shots," Harlan County coach Michael Jones said. "I really liked the way we were aggressive today defensively. I challenged the kids in there and told them that they are blessed if they have talent but toughness is a choice and they needed to make that choice today against a very physical team. I thought they really responded."
Sophomore guard Trent Noah again led the Bears in scoring with a 28-point, eight-rebound game, but he received plenty of help as freshman guard Maddox Huff scored 20 and junior guard Jonah Swanner added 15. Daniel Carmical and Jackson Huff tossed in 11 each.
The 5-4 Thunderbirds were led by senior point guard William Layfield with 22 points. Nathan Dudukovich and Jason Lavender added 13 and 12 points, respectively.
Dudukovich scored 51 points two nights earlier in a win over North Raleigh Christian Academy and is ranked among the top juniors in Ohio, according to Jones, but was held to four-of-10 shooting against HCHS. Carmical showed he was more than a 3-point shooter as he stayed with the Lakota West star most of the night.
"I thought he did a phenomenal job guarding him the entire game, even when he was in the post. Daniel kept working and working," Jones said. "You give him a responsibility like that and tell him he's not getting any help, he's very capable of getting it done."
The Bears hit nine of 18 shots in the first quarter, led by four baskets each from Maddox Huff and Noah, to build a 24-15 lead. The Bears' advantage grew to 10 midway through the second period as Carmical hit two 3s while Maddox Huff and Jackson Huff added one each. The Thunderbirds cut the deficit to 40-34 by halftime as Layfield and Lavender each had treys.
The Bears' advantage was at 10 midway through the third quarter when Lakota West reeled off 10 straight to pull even. Maddox Huff quickly answered for HCHS to spark a 10-2 run to close the period as the Bears built a 58-50 lead.
"I talked to Maddox before the game and he was ready," Jones said. "I thought he was phenomenal today being aggressive."
Lakota West coach Jimmy Leon picked up his second technical in the fourth quarter and was ejected as HCHS pulled way, building a 21-point lead.
Harlan County (10-3) returns to action Thursday at home against Knox Central, the three-time defending regional champs.
———
Metrolian Christian Academy, N.C., rolled past Heritage, Tenn., 79-41 in the opening game Wednesday.
Junior forward Michael Wilson Jr. scored 18 to lead Metrolina. Jacob Davis and Miles McIntyre added 16 and 14 points, respectively.
Hassanur Freeman scored 11 and Kyle Ferguson added 10 for Heritage.
———
Metrolina Christian Academy, N.C. (79) — Eli Clark 8, Jacob Fisher Davis 16, Miles McIntyre 14, Dylan Deluca 6, Daylon Houston 4, Blair Crumbie 3, Matthew Kneafles 4, Michael Wilson Jr. 18, Caleb Maul 6.
Heritage, Tenn. (41) — Hussain Williams 8, Hassanur Freeman 11, Simeon McMillian 3, Omar Anderson 3, Kyle Ferguson 10, Terrell Washington 6.
———
Monday, Dec. 27
Harlan County 74, Heritage, Va 61
Lakota West, Ohio 90, North Raleigh Christian, N.C. 68
Harlan County 92, Metro Christian, N.C. 85
Tuesday, Dec 28
Heritage, Va. 63, North Raleigh Christian, N.C., 41
Lakota West, Ohio, 69, Metro Christian, N.C., 59
Harlan County 93, North Raleigh Christian, N.C., 70
Wednesday, Dec 29
Metro Christian, N.C. 79, Heritage, Tenn., 41
Harlan County 87, Lakota West, Ohio 72