In attack mode from start to finish, Dragons blow past Lynn Camp and into All 'A' finals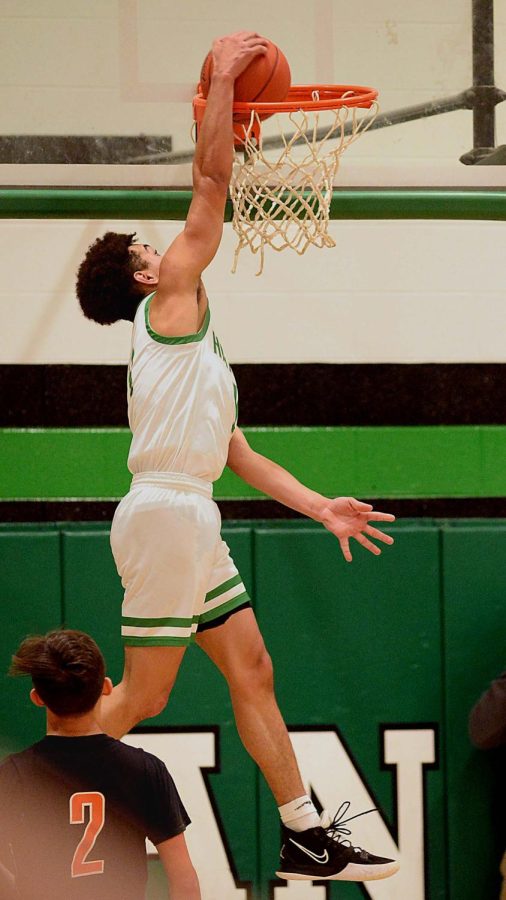 With a frontline featuring 6-foot-11 Gavin Allen, 6-5 Micah Engle and 6-3 Duane Sparks, the Lynn Camp Wildcats can make venturing into the paint against them a scary proposition and one reason why many expected the Wildcats to provide Harlan's stiffest challenge in winning a third straight 13th Region All "A" Classic title.
Harlan answered this challenge Monday in the tournament semifinals by attacking from the opening tip, dominating all the way in posting an 84-47 victory over the visiting Wildcats. Allen went to the bench with his foul three minutes into the third quarter and the Dragons started a running clock less than three minutes later.
"Before the game we talked about staying in attack mode, no matter if he was in there or not," Harlan coach Derrick Akal said. "We wanted to get him in foul trouble. We thought he'd try to block a lot of shots. Our guys are athletic enough that it isn't that easy to block their shots. Getting him in foul trouble helped us a lot. We didn't want to play a slow-down game, or a halfcourt game. We wanted to get the rebound and push it. We didn't want Allen or Engle to set up on defense. We wanted to force them to run up and down the floor."
Senior guard Jordan Akal hit 10 of 13 shots and led the 11-5 Dragons with 31 points. Junior forward Jaedyn Gist added 20 points and eight rebounds, part of Harlan's 34-23 advantage on the boards. Kaleb McLendon scored 10 points. The Dragons used their athleticism to beat Lynn Camp to rebounds and loose balls while slicing past defenders for layups.
Engle scored 23 to lead the 10-5 Wildcats. Allen added 10 as the Wildcats' six-game winning streak came to an end.
"I wouldn't judge them on one game, just like I wouldn't judge us," Akal said. "They could have had an off-night. I thought we played well. It was one of our best games this year. I like our chances."
Gist and Akal each hit 3s in the opening three minutes as Harlan raced to a 12-2 lead with the help of a 5-0 advantage on the boards. The lead grew to 23-12 at the end of the quarter as Gist, Will Austin and Akal each had two baskets.
Akal hit four of his first five shots in the second quarter as the Dragons' advantage quickly grew to 21. A dunk by Kaleb McLendon and a three-point play from Akal helped push the lead to 46-20. Four free throws by Engle helped cut the deficit to 48-27 at halftime.
Allen went out with 5:0 left in the third quarter as Harlan went on a 7-0 run to go up by 34. Engle hit a 3, but Akal followed with a basket and Gist hit two free throws to start a running clock. The Dragons led 75-35 going into the final period after hitting eight of 12 shots in the quarter and committing no turnovers.
Harlan will play Barbourville on Tuesday at 7 p.m. with the winner advancing to state competition at Eastern Kentucky University. Lynn Camp returns to action Jan. 18 at home against Pineville.
———
Barbourville won a defensive struggle against Middlesboro in the opening semifinal, advancing with a 45-35 win.
Jordan Collins scored 15 and Travis Scott added 13 to lead the 9-2 Tigers.
Jaiden Schertz paced the 6-9 Jackets with 10 points. Trey King and Trey Kyle scored nine each.
———
Barbourville (45) — Ty Clark 4, Matthew Warren 6, Ethan Smith 3, Travis Scott 13, Jordan Collins 15, Tanner Smith 1, Jacob Lundy 3.
Middlesboro (35) — Cayden Grigsby 4, Jaiden Schertz 10, Trey King 9, Jay West 3, Trey Kyle 9.
———
Barbourville 15 8 4 18 — 45
Middlesboro 7 9 6 13 — 35