Lady Generals end 19-year All 'A' drought with win over Harlan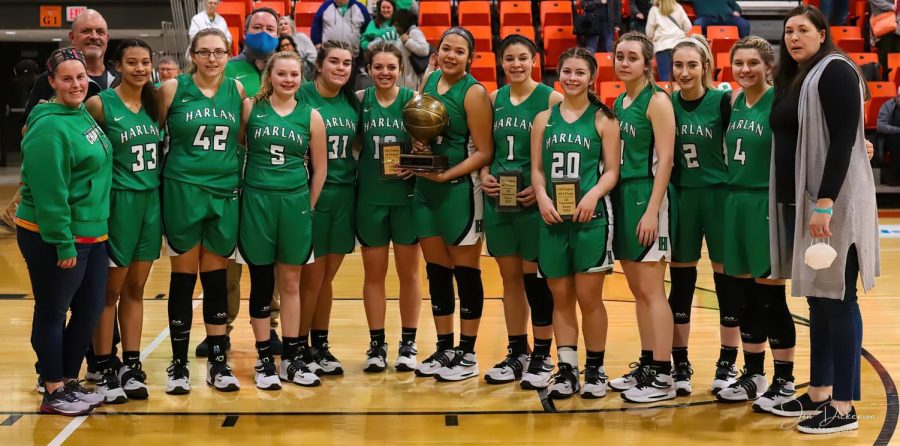 WILLIAMSBURG — A sixth-grader on Jackson County's last 13th Region All "A" Classic championship team in 2003, coach Kourtney Tyra watched her Lady Generals fall in the finals each of the past two years.
Jackson County broke through on the third try, taking a double-digit lead in the second quarter and then holding off a late comeback bid by a young Harlan squad to win 84-69 and earn a trip to Richmond for state competition.
"It has been 20 years. These girls weren't even born, and I was just a kid," said Tyra. "This means the world to me. We've been to the finals the last three years, but now we've won one and we're so thankful and tickled to death."
Abby Gilbert, a 6-2 freshman forward, scored 23 points and pulled down 12 rebounds to lead the Lady Generals as she teamed with 6-4 junior Kenna Ward to provide a matchup issue for Harlan and most other teams in eastern Kentucky.
"We've got two that are great and another one in Kylee Shannon who has been sick for two weeks," Tyra said. "We have three who can all play."
The Lady Generals also got big contributions from the backcourt as senior point guard Eden Lakes scored 18, Madison Curry tossed in 12, while Jenna Creech and Ward added 10 each.
"Our guards have come so far and improved so much," Tyra said. "This is the best game they've played, and they couldn't have done it at a better moment. Creech really gave us some big rebounds and played defense and hit some shots."
Harlan was led by freshman forward Kylie Noe with 28 points and 13 rebounds and freshman wing Aymanni Wynn with 23 points. The Lady Dragons fell to 7-9 with the loss but established themselves as a strong contender for future All "A" titles with a runner-up finish and a roster that has no seniors.
Harlan coach Tiffany Hamm-Rowe played on three All "A" Classic regional champions at Harlan from 1996 to 1998 after finishing second in 1995.
"I was super proud of our effort and fight for four quarters. I thought we got after them, disrupted them and made them uncomfortable at times," she said. "Jackson County is a good team who is well-coached that plays to their strengths, with all that size. I saw some great strides made by our team and several individuals on both ends of the floor throughout this tournament. That should provide them with a lot of confidence and enthusiasm going forward. I'm excited for the second half of the season. The first one is the toughest, but I'm extremely proud of my girls."
Gilbert had three baskets in the opening quarter as Jackson built an early seven-point lead. Consecutive 3-pointers by Wynn and Leah Davis followed by a three-point play from Emma Owens helped Harlan grab a 20-18 lead after one quarter.
Harlan hit only three of 17 shots in the second quarter as Jackson pulled out to a 39-29 half-time lead with the help of three more baskets from Gilbert. Creech also provided a spark off the bench as she hit both of her shots.
Jackson County led by 12 after three quarters and by 16 with just under six minutes to play. Wynn hit a pair of 3-pointers, then Noe scored twice of consecutive steals out of the press to cut the deficit to 66-59. Harlan had a couple of costly turnovers of its own during the run and Jackson recovered as Ward and Curry had buckets.
Harlan returns to action Saturday at Harlan County in the first game of a girls/boys doubleheader. Jackson County plays host to Red Bird on Friday.