Three combine for 76 points as Lady Dragons rout Lynn Camp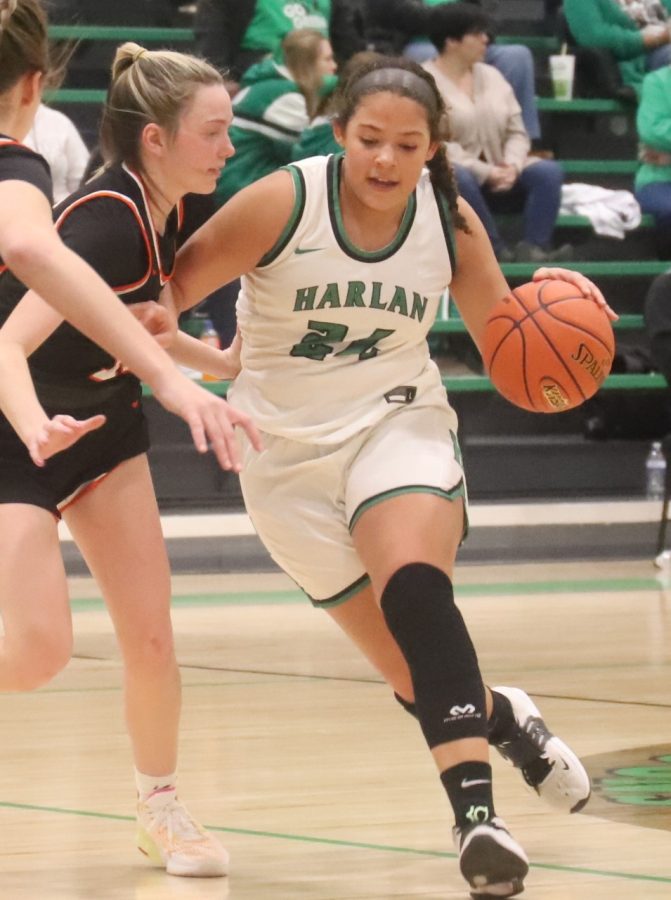 Kylie Noe, Aymanni Wynn and Ella Owens combined for 76 points on Monday as Harlan defeated visiting Lynn Camp 81-57.
Noe, a freshman forward, powered the Lady Dragons with 31 points. Wynn, a freshman guard, followed with 25 points and grabbed a game-high 12 rebounds. Noe added nine boards. Owens, a sophomore point guard, tossed in 20 points and had five assists.
"I thought they let our defense dictate our offense," said Harlan coach Tiffany Hamm-Rowe. "When those three have that much energy on defense, the ball intends to find them on the other end. I was pleased with our defensive effort. We've had a lot of stuff to clean up the last couple of games. and I thought tonight was a step in the right direction."
Junior guard Abbi Mabe paced the Lady Cats with 20 points. Bella Blevins scored nine and Abbi Boggs added seven points.
"I thought Abbi played really well and stepped up. She moved the ball around good and shot the ball well," said Lynn Camp coach Darrell Hendrix. "We played pretty good. We didn't play great. We struggled on defense a little bit.
"Harlan's a good basketball team. Wynn and Noe can flat play. We've played them once this year, and I knew coming in they could play."
Lynn Camp outrebounded the Lady Dragons 35-33. Lindsey Cox had a team-high 10 for the Lady Cats. Julie Moore and Boggs grabbed six each. Harlan was able to rotate players in and out most of the night despite some foul trouble.
"Any time you can run a lot of people in and out it keeps you fresh and keeps your intensity up," said Hamm-Rowe. "When you get tired, it's easy to rest on defense and we don't need to be. It was good to give our other girls some rest. "We've got four games this week, but I thought Scarlett (Rowe), Addison (Jackson) and Raegan (Goodman) and them played real well."
Wynn scored eight points and Owens had four as the Lady Dragons jumped out to a 12-2 advantage after more than three minutes of play. A 3-pointer by Wynn, along with two free throws and two baskets by Noe, pushed the lead to 23-14 after one quarter.
Mabe scored five points as Lynn Camp pulled within six with 5:09 remaining in the second period. Noe knocked down three baskets in a 10-0 run as Harlan led 36-20 two minutes later. Both teams traded baskets and free throws the rest of the quarter and the Lady Dragons took a 47-30 lead into the break. Noe completed a pair of three-point plays and Owens scored six points as Harlan went into the final period ahead 63-43.
The Lady Dragons opened the fourth quarter with a pair of baskets by Owens and a putback by Noe to lead 69-43. A putback and 3-pointer by Wynn pushed the lead to 78-48 with four minutes to play. Lynn Camp never gave up, using an 11-3 spurt to close the game. Mabe scored six points in the final period.
Harlan (8-10) returns to action Tuesday at Bell County in the first game of a girls-boys doubleheader. The Lady Dragons will visit Middlesboro on Friday in another 52nd District doubleheader before playing host to Madison Central on Saturday in the Doc Gray Classic.
Lynn Camp (2-15) travels to Pineville on Thursday and Bell County on Friday in the Pride of the Mountain Basketball Showcase.
— — — — —
Abbi Boggs had 13 points and Julie Moore scored 11 as Lynn Camp downed the Lady Dragons 31-18 in junior varsity action. Lauren Partin tossed in five and Chloe Helton tallied two for the Lady Cats. Addison Jackson paced Harlan (0-4) with seven points. Gracie Hensley, Trinity Jones and SaraKate Fisher each scored three while Raegan Goodman added two.