Green Dragons down Bell to stay alive for top seed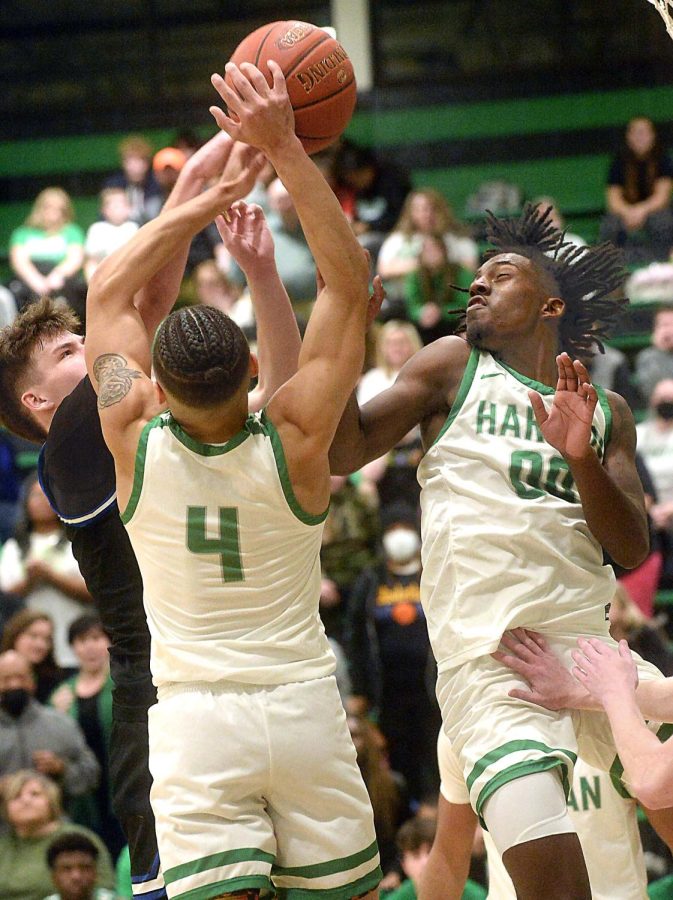 Unable to match Bell County's physicality in a 22-point loss last week on Log Mountain, the Harlan Green Dragons proved they were up to the challenge in the rematch Tuesday in posting a hard-fought, both literally and figuratively, 68-61 victory over the visiting Bobcats.
"Down there, it was a football game," said Harlan coach Derrick Akal, who was not happy with the officiating in the first game as the Dragons lost four players to fouls. "Up here, it seemed like it was trying to become a football game, but we made some big shots and played some pretty good defense for the most part and rebounded pretty well."
The game had a tournament atmosphere from the start and teetered on turning violent several times, including late in the game when Harlan star Jordan Akal drew his second intentional foul of the game and fans reportedly became involved. Akal was kept out of the fray by teammate Kaleb McLendon and the sides were eventually separated. Another incident took place when the teams were shaking hands after the game, but police and coaches helped restore order.
Harlan took control of the game in the second quarter, building a 15-point lead at one point and taking an 11-point advantage into the break, but Bell grabbed the momentum in the third quarter and got as close as one in the fourth period. Just when it appeared the Bobcats may take control, Harlan held them scoreless in a four-minute stretch after Cameron Burnett's three-point play cut the deficit to 50-49 with 5:36 left. Harlan scored seven straight points to pull away.
"We didn't play very well," Bell County coach Brad Sizemore said. "We had opportunities to win the game, but we didn't execute. It was a combination of them playing really well and we were out of sync. We gave ourselves chances. We got back in it, then we hit a dry spell. I give the other team credit. They outplayed us. We're going to regroup. We have a couple of weeks left, and we'll be a hard out."
"Will (Austin) and Jaedyn (Gist) were in foul trouble, so I thought it was huge to have Donovan Montanaro and Johann Gist come in and play good defense and give us chances," Akal said. "Once we got Jaedyn and Will back in, our defense picked up even more. It was a struggle at times for both teams, but, luckily, we came out on top."
Burnett scored 21 points and Dalton Stepp added 14 for the 16-4 Bobcats.
Akal poured in 33 points to lead the 16-8 Green Dragons. Gist added 14 points and nine rebounds.
Harlan stayed alive for the district's top seed and could force a three-way tie for the top spot with wins over Middlesboro and Harlan County over the next week. Harlan County could clinch the top seed with wins over Harlan and Middlesboro.
Harlan travels to Middlesboro on Saturday. Bell County will play host to Owsley County on Thursday.