Bears wake up just in time to knock off Williamsburg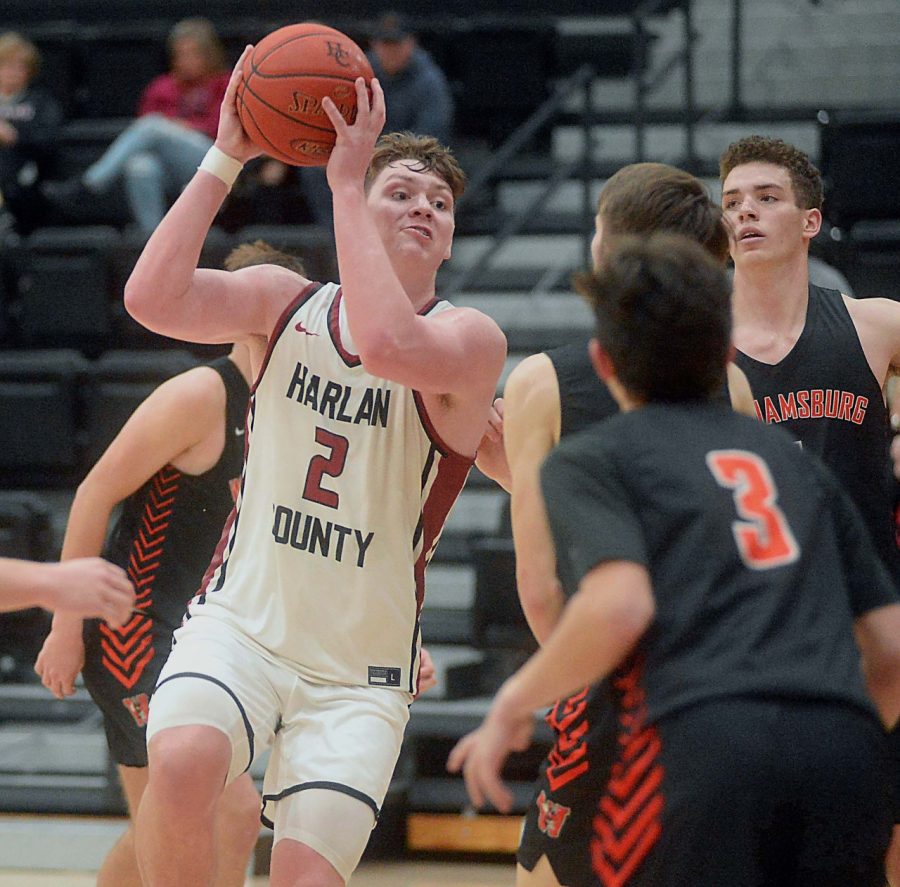 Coming off a 74-72 overtime loss earlier this season at Williamsburg, Harlan County coach Michael Jones expected his Black Bears to be looking for revenge in the rematch Tuesday at HCHS.
For three quarters, the Bears appeared more like a team looking for a place to take a nap. After sleepwalking through three quarters and leading by only one, Harlan County came alive when it counted with a 14-0 run to start the period on the way to an 82-71 victory.
"I don't know what it was. We thought since they let one slip away down there earlier in the year, they would be motivated, but for whatever reason they weren't," Jones said. "I don't know what it was, but something clicked in them going into the fourth quarter and they finally started playing. I was real impressed on Friday with how we played defense at Middlesboro, but we didn't do that today until the fourth quarter."
Sophomore guard Jonah Swanner sparked the decisive run with a coast-to-coast drive for the opening basket of the period. After a Trent Noah basket, Swanner stole a Williamsburg pass and went in for a layup.
"Jonah was lost defensively the first three quarters, and that's not like him," Jones said. "He definitely sparked us the fourth quarter with how he got in the passing lanes. Once he gets in the open court, you aren't going to stop him."
Maddox Huff and Trent Noah ignited the HCHS offense in the quarter with, hitting seven of 10 shots between them. Noah finished with a team-high 31 points, while Huff overcame a slow start and a sore leg to add 20.
"They got hot. Maddox Huff hit three or four, then Noah," Swords said. "I thought we did a good job most of the game answering their 3s with 3s of our own. We hadn't been shooting the ball well, but tonight we looked good. We were able to share it."
"Once Maddox started moving around and feeling better, he played a lot better in the fourth quarter. He shot the ball better and got down in the lane," Jones said. "I keep telling Maddox I want him to play his game and get us in our offense and have run and play like he's capable."
Senior guard Jackson Huff hit a 3-pointer in each quarter and finished with 14 points. Swanner added 10 as the Bears improved to 18-10.
Sophomore guard Dre Ellis scored 24 points to lead the 15-13 Jackets. Evan Steely, a senior guard who scored 33 in the earlier HCHS game, finished with 20 in the rematch.
"This is what we expected from Dre coming into the year," Swords said. "He's had some flashes, but he's struggled shooting the ball. I thought he made a bunch of big plays. I was proud of my kids. We were without Martin (Shannon) due to illness and he's a big part of our team. We're hoping to get everyone healthy and build from this into next week."
Harlan County closes its regular-season schedule Thursday at home in a girls/boys doubleheader against Red Bird with Senior Night festivities scheduled before the opening game. Williamsburg plays host to Middlesboro on Thursday.
———
Freshman center Jaycee Carter scored 17 points and freshman guard Brody Napier added 15 as the Harlan County junior varsity team ended its season at 7-5 with a 45-38 victory. Ethan Simpson and Hunter Napier contributed nine and four points, respectively.
Cade Hatcher scored 14 to lead Williamsburg. Henry Bowling added nine, followed by Ben Hale with seven, Cooper Prewitt with six and Adam Fritts with two.