Purple Devils end Rosspoint's four-year run as county champs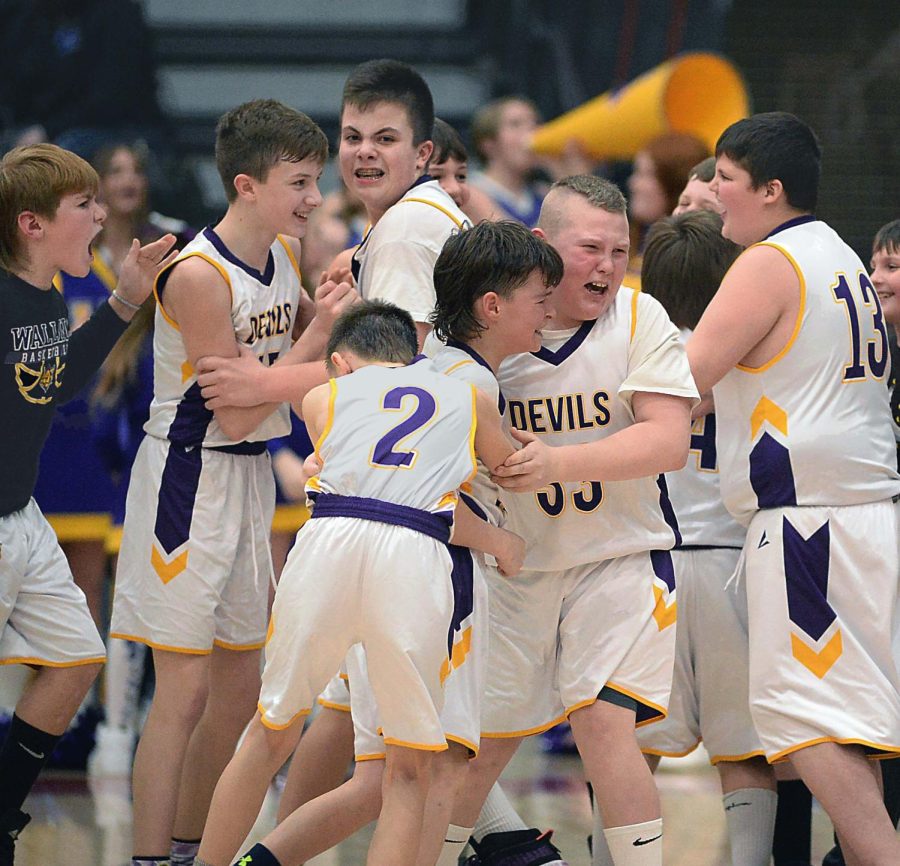 From one win in 2021 to a county championship in 2022, the Wallins Purple Devils underwent quite a transformation over the past year.
"They put a lot of time in over the spring, summer and fall with individual workouts and then since practice started. I'm proud of how hard they worked to get better," said Wallins coach Johnny Murphy after the Devils downed Rosspoint 34-27 in the county finals Saturday at Harlan County High School.
Wallins lost five of seven games during a stretch at midseason but got hot at the right time, closing with eight straight wins to finish 14-5.
"We had some covid issues and missed a lot of practice time," Murphy said. "I told them earlier today that I thought we were peaking at the right time. You don't want to be peaking in December. I thought we struggled the first half tonight but played more like they are capable the second half."
Tanner Daniels, a sixth-grade guard who is one of the nation's top cross country runners in his age group, led the Devils with 19 points and was especially effective in the open court.
"I've had him for three years now and he is our hardest worker," Murphy said. "He gives it everything every night. He is developing his entire game with passing and defense."
Wallins led 5-4 after one quarter as both teams struggled to hit shots. Rosspoint went on top 13-11 at halftime as Blake Johnson had two baskets and Grant Shelton added one in a 6-0 run to close the half.
Daniels had three baskets and Ryan Day aded two as Wallins built a seven-point lead after three quarters. The lead was at eight when Hayston Hensley and Trey Creech each hit 3-pointers in an 8-0 run to tie the game at 27 with 4:22 left. Wallins close the game with a 7-0 run on a Day free throw, a Taylor Daniells basket and two Tanner Daniels baskets.
"We tried to put more pressure on the ball and sometimes it worked and sometimes it didn't," Murphy said. "We got lost a few times in transition, but it helped in the long run."
Creech scored eight and Johnson and Hensley added six each to lead the Wildcats, whose run of county championships ended at four.
———
A basket in the closing seconds by Tyhler Coots sent James A. Cawood to a 49-47 win over Evarts in the third-place game.
Coots scored 18 and Easton Engle added 10 to lead the Trojans.
Evarts was led by Dakota Maggard with 24 points and Kobe Noe Sanders with 17.
———
Wallins (34) — Eli Noe 3, Ryan Day 7, Tanner Daniels 19, Taylor Daniels 5.
Rosspoint (27) — Trey Creech 8, Hayston Hensley 6, Grant Shelton 2, Rydge Lewis 5, Blake Johnson 6.
———
James A. Cawood (49) — Easton Engle 10, Logan Smith 8, Tyhler Coots 18, Andrew Vance 7, Mason Jones 4, Bryson Kelly 2.
Evarts (47) — Kobe Noe Sanders 17, Brenton Bargo 3, Josiah Smith 3, Dakota Maggard 24.