Black Bears hold off Middlesboro as Cooper tosses shutout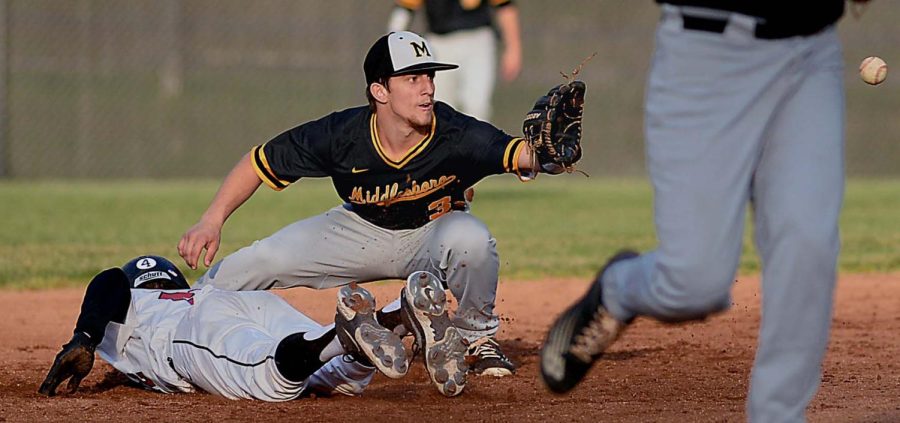 Through a brutal eight-game streak since their last victory, the Harlan County Black Bears had found what must have seemed like innumerable ways to lose.
One night it was bad defense. Another night it was the lack of timely hitting. Lack of command by pitchers sometimes led to early exits and squandered leads late.
Whatever the reason, the Bears went into Tuesday's district clash against visiting Middlesboro with a 1-14 record and in desperate need of a win.
Sophomore right-hander Tristan Cooper responded, scattering seven hits while striking out 14 and walking two in leading the Bears to a 1-0 victory.
"We needed a win. When you lose games, it gets tough. The boys have stayed up and been positive and trusted the process," Harlan County coach Scotty Bailey said. "It felt real good to see them start a game and finish a game. That's been our biggest problem. We kept our heads up the whole game and had some leadership.
"We also did a good job on defense. That has cost us in several games. It's had to beat good teams when you have errors."
HCHS avoided the defensive problems of past nights with an error-free game until Cooper threw the ball into center field on a pickoff attempt with two outs in the seventh inning, putting runners on second and third. Case Bayless hit a ground ball to Alex Creech at second base to end the threat.
"Cooper was determined today. He had that mindset. He was dominant from the start to the finish," Bailey said. "When he threw the ball into center field, he said that's on me. He's on right now and throwing strikes. That's the biggest thing for us."
"He did a good job tonight. He threw a lot of off-speed pitches, and our guys were taking a lot of pitches," Middlesboro coach John Smith said. "We started swinging at a lot of junk and stranded a lot of runners."
The Jackets had one hit in innings two through six as Conner Winterberger doubled with one out in the second inning, Case Bayless singled with one out in the third, Winterberger singled with one out in the fourth, Kameron Wilson tripled with two outs in the fifth and Connor Mason singled with no outs in the sixth. Yousiff Nabat had a one-out single in the seventh and Wilson followed with a two-out single before Cooper induced the game-ending ground out.
"We had second with no outs in the first inning, then second and third in the third inning," Smith said. "We couldn't get a weak ground ball to the right side to punch one in. It's the way it goes sometimes."
Braydon Burton singled for the Bears in the second inning and Nate Shepherd walked, but Tyler Harris worked out of the jam with a strikeout and ground out.
Jonah Swanner singled for the Bears in the third inning and Brayden Blakley was hit by a pitch with two outs, but Harris struck out Will Cassim to end the threat.
The Bears broke through for a run in the fourth as Burton doubled to lead off the inning and scored on Colby Johnson's hit. HCHS had runners on second and third with no outs before Harris worked out of it by striking out Creech, Shawn Carroll and Swanner in succession.
Harris didn't give up another hit, finishing with 13 strikeouts and four walks while pitching a four-hitter.
"It was a good pitchers' duel, and I'd rather see that than 12-11," Smith said. "Both pitchers did a heck of a job tonight. It's been a battle between these two schools since Day 1."
Harlan County returns to action Thursday at home against Letcher Central. The 7-4 Jackets play host to Cumberland Gap, Tenn., on Thursday.
———
Middlesboro 000 000 0 — 0. 7. 1
Harlan County 000 100 x — 1. 4. 1
Harris and Hale; Cooper and Kelly. WP — Cooper (1-1). LP — Harris.
———
Middlesboro scored five runs in the fourth inning on the way to an 8-1 win Monday over Harlan County.
Case Bayless pitched a six-hitter to earn the win for the Jackets with one strikeout and one walk.
Youssif Nabat led the Jackets with a grand slam. Kameron Wilson added a single.
Shawn Carroll had two singles to lead the HCHS offense. Nate Shepherd added a double. Isaac Kelly, Will Cassim and Alex Creech contributed singles.
Carroll gave up four runs on no hits in three innings, walking six. Brayden Blakley allowed four runs on two hits in three innings, with three strikeouts and five walks.
———
Harlan County 000 000 1 — 1. 6. 4
Middlesboro 100 520 x — 8. 2. 2
Carroll, Blakley (4) and Kelly; Bayless and Hale. WP — Bayless. LP — Carroll (0-2).