Bailey's gamble pays off as Bears bounce back to defeat Harlan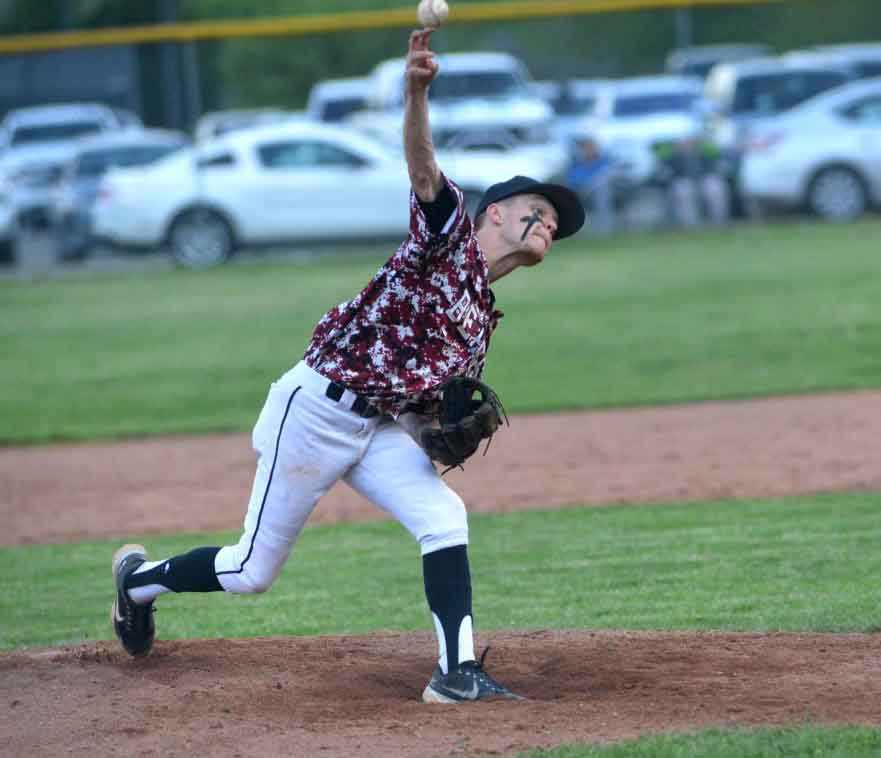 Coming off a 7-4 loss two nights earlier to district rival Harlan at home, Harlan County coach Scotty Bailey took quite a gamble in the rematch Wednesday at Harlan.
Instead of sending Tristan Cooper, the sophomore right-hander who dominated in an 18-strikeout performance at Harlan a year ago and had district wins over Middlesboro and Bell County earlier this month, Bailey elected to go with Colby Johnson, the No. 3 pitcher in the rotation. With HCHS and Harlan locked into a meeting in three weeks in the first round of the 52nd District Tournament, Bailey wanted to avoid giving the Dragons a look at Cooper before the postseason.
The move paid off as Johnson scattered six hits in a complete game effort and the Bears exploded for seven runs in the fourth inning on the way to a 10-4 victory.
"Since we lost that game the other night, we knew we'd be 2 or 3 anyway, so we thought we should save Coop. It's hard to see a guy like Cooper and get on him real quick," Bailey said. "Colby has needed this game. I had full faith in Colby. I didn't know he could go the full seven innings, but he got better as the game went along. He got more comfortable."
Johnson gave up three runs in the first inning but allowed only one run the rest of the way to earn the win. He struck out seven and walked three.
HCHS trailed 4-2 before sending 13 hitters to the plate in the fourth inning. The Bears scored all seven runs with two outs.
"We had two outs when it all happened," Harlan coach Lee Freyer said. "I go back to (former Harlan coach) Murph (Howard), who always talked about five C's. One of them was consistency and that's what we're still trying to find — consistent effort from night to night. We won Monday night. I think it was 14 (losses to Harlan County) in a row. We got over that hump, but we need a consistent effort every night. You let your guard down for a second and they put a crooked number and that's the ballgame."
"That's the thing we've been preaching all year. We have to get guys in when they are in scoring position," Bailey said. "They have really focused in on hitting."
Freshman second baseman Alex Creech led the HCHS offense with three his and a walk from the nine spot in the order. Braydon Burton, the eight hitter, added two bunt singles.
"Alex is seeing the ball well lately and came through for us the last couple of games," Bailey said. "I told him he's our nine hitter for the year. He has come up with some really big hits. Burton had a couple of bunt hits. That makes us a complete team when the bottom of the lineup contributes like that."
Shawn Carroll also had two singles for the Bears, who improved to 6-15 overall and 4-2 in district action. Jonah Swanner, Isaac Kelly, Cooper and Nathan Shepherd added one single each.
John Mark Bryson, Evan Browning, Jaedyn Gist, Donovan Montanaro and Andrew Roark had one single each for the 9-12 Dragons, who fell to 3-3 in district action.
Browning gave up eight runs on six hits with two strikeouts and five walks over 3 2/3 innings. Noah Lewis allowed one run on two hits with one strikeout and three walks in 1 1/3 innings. Jared Moore allowed one run on three hits over two innings.
Browning and Gist, who ignited the Harlan offense in Monday's win, got the Dragons off to another good start as Browning singled and Gist walked to open the game. Both scored when Shepherd was unable to come up with Montanaro's drive to center. The third run of the inning scored on Roark's ground out to Cooper at first base.
Harlan County answered with two runs in the second inning, both on Creech's single to right field. Brayden Blakley walked and Burton reached on a perfect bunt to open the inning.
The Dragons extended their lead with the help of two errors after Gist opened the inning with a single.
HCHS took control in the fourth inning, highlighted by Kelly's bases-clearing hit to put the Bears up 7-4. Cooper and Shepherd followed with RBI singles.
Harlan County added an insurance run in the seventh as Creech and Johnson opened with bunt hits and Carroll brought him Burton with a sacrifice fly.
Harlan will play host to Cumberland Gap, Tenn., on Friday. Harlan County is scheduled to play host to Lee, Va., on Thursday and travel to Pike Central on Monday.
———
Harlan County 020 700 1 — 10. 11. 4
Harlan 301 000 0 — 4. 5. 3
Johnson and Kelly; Browning, Lewis (4), Moore (6) and Lewis, Browning (4). WP — Johnson (1-3). LP — Browning (1-3).