Ausmus limits Harlan to 3 hits in district victory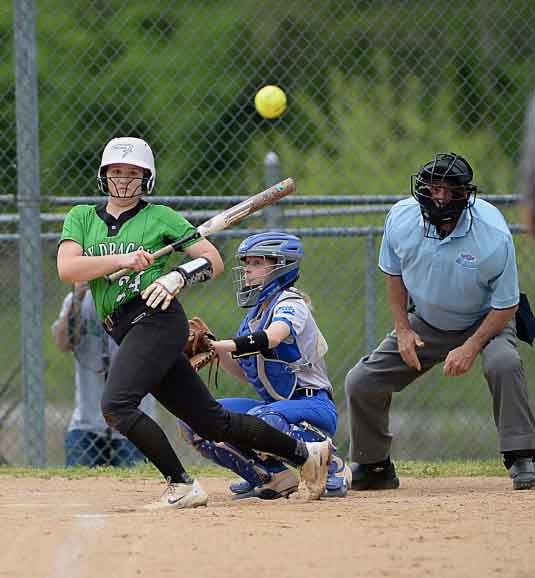 Pitching around Harlan standouts Ella Lisenbee and Addison Jackson proved to be a smart strategy Friday for Bell County and coach David Teague.
Lisenbee and Jackson walked in their first two trips to the plate while the other seven Lady Dragons went a combined zero-for-15 over the first five innings as Mataya Ausmus had a no-hitter until the sixth inning. Bell blew open a close game with a seven-run sixth inning on the way to an 11-3 victory.
"We knew they had a couple of good hitters in the lineup, so you try to make other people in the lineup beat you," Teague said. "I thought Mataya did a great job with that."
Ausmus pitched a three-hitter with three strikeouts and five walks.
"Mataya pitched real well tonight, and she is probably worn out because she has pitched every game for us, including four this week," Teague said. "She threw the ball well and our defense did a good job behind her tonight. I thought we made the plays tonight."
Senior third baseman Nevaeh Kerns led the 5-16 Lady Cats with a double and single. Kenzie Napier, Jordan Muncy and Haylee Mills added two singles each. Ausmus had a double. Kayleigh Taylor, Adrianna Strouth and Kamdyn Hoskins added one single each.
Jackson broke up the no-hitter with a single that dropped in short left to open the sixth inning. Mallory McNiel followed with a two-out to load the bases before Ausmus worked out of trouble. Jackson blasted a two-out, two-run homer in the seventh inning, her sixth of the season.
"We lack consistency," said Harlan coach David Overbay. "There are games where we hit the ball hard and get the runners in. It's just a growing process."
It was the 14th loss in 15 games for the 4-16 Lady Dragons, who started the year 3-2. Harlan has 10 freshmen on its 14-player roster, so the inconsistency isn't a surprise.
"There have been some ups and downs but these girls have never quit and they show up at practice every day and work," Overbay said. "Even in our tough games, they have kept battling and grown a whole lot. I still believe what I said in the beginning of the season, if they play ball the way they are capable we can compete for the district championship."
Harlan will play host to Harlan County on Monday. Bell County travels to Knox Central on Tuesday.
———
Bell County 002 007 2 — 11. 12. 0
Harlan 100 000 2 — 3. 3. 3
Ausmus and Napier; Thomas, McNiel (6) and Jackson. WP — Ausmus. LP — Thomas (4-16). HR — Jackson (6).