Lunsford breaks her school record to lead Lady Bears in season-opening meet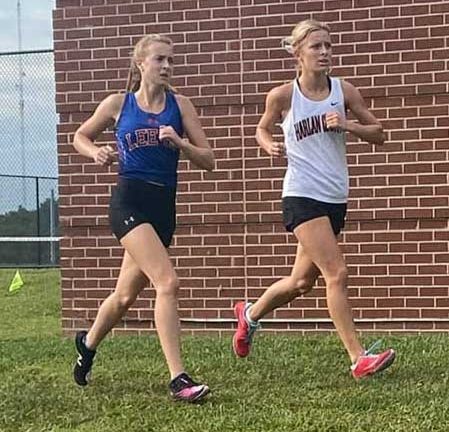 The Harlan County girls cross country team kicked off the 2022 season Saturday with a third-place finish at the North Laurel Invitational.
Sophomore Peyton Lunsford led the Harlan County attack, finishing third and breaking her own school record with a time of 20:42.78.
Preslee Hensley and Kendall Brock posted times of 22:56.34 and 24:51.84, respectively. Rounding out the results were Sophie Day (25:30.62), Aliyah Deleon (26:11.91), Olivia Kelly (26:44.12), Kylie Jones (27:37.88), Taylor Clem (30:13.48), Lainey Garrett (31:58.78) and Mary Gross (39:33.31). Finishing places were not available after the race.
"We've added some great girls to a strong core group returning from last season. This group has a chance to be very special," Harlan County coach Ryan Vitatoe said. "Peyton had a great race, breaking her own school record, but all our returnees ran great. Preslee Hensley was also lights-out for the girls as well. I'm really proud of them."
On the boys side, three runners posted sub-20:00 times to lead the team to a fourth-place finish.
Andrew Yeary, a senior, placed sixth with a time of 18:10.11 to lead the Bears. Jacob Schwenke finished with a time of 19:09.09, while Kaden Boggs posted a time of 19:33.90. Other finishers for the Bears included Elijah Moore (20:39.09), Austin Crain (20:49.00), Caleb Schwenke (21:21.34), Hunter Smith (24:30.44), DaShaun Smith (24:34.28), Bradley Brock (26:25.59) and Jonavan Rigney (27:12.22).
Corbin won the boys race, followed by Bell County and North Laurel.
"The boys ran very well also. I'm proud of their effort. Finishing in the top four in a field like this is a great starting point for them," Vitatoe said.
"What a solid way to open the season for all these kids in a highly competitive meet. I'm so proud of our girls and boys varsity teams today. Both teams came out ready to compete, and it was evident from the moment the gun fired."
Tanner Daniels was the boys overall winner in the middle school race, setting a new school record with a time of 10:41.97.
Drew Sergent was the Bears' second finisher with a time of 12:03.81. Luther Gross and Riley Fuson finished with times of 12:33.91 and 14:07.21, respectively.
The girls were led in the middle school race by Gracie Roberts with a time of 15:02.09, Kiera Roberts with a time of 16:08.56 and Autumn Farley with a time of 18:34.50.
"The future is definitely bright for our program," Vitatoe said. "Our middle school guys ran great. Tanner had an incredible race. You won't see very many kids run sub-11:00 for a 3K. He was fantastic. Drew also had a great race, as did Luther and our other young guys. Gracie, Keira, and Autumn also ran great. These girls are very talented.
"This is a great starting point. I waited a bit later in the year to race due to our inexperience and youth, so they were chomping at the bit to race. We still have a long way to be a finished product, but I like where we are."
Harlan County returns to action Tuesday at home in an all-comers meet. More than 20 teams are expected to attend.