HC boys, Harlan girls win elementary races at Lynn Camp Invitational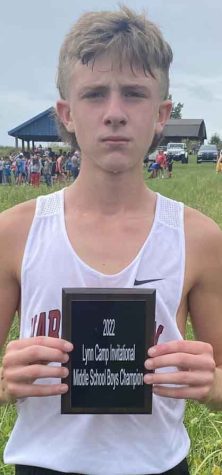 CORBIN – On a day when Harlan County and Harlan varsity runners struggled, the elementary teams took the opportunity to seize the spotlight.
The Harlan County boys and Harlan girls claimed team wins in the elementary races Saturday at the Lynn Camp Invitational.
Harlan County held off Corbin by 15 points. Nathan Barger led the Bears, placing sixth in the 156-runner field with a time of 7:05.73. Hutton Sherman (7:20.22) and Trey Creech (7:31.61) finished ninth and 11th, respectively. Other finishers for Harlan County were Eli Barger (25th, 8:01.74), Jacob Brock (26th, 8:02.67), Ryland Burke (58th, 9:02.26), Jayden Sargent (62nd, 9:10.12), Levi Hensley (64th, 9:12.43), Carter Daniels (67th, 9:16.90), Zakk Collins (76th, 9:30.63), Jonah Sargent (77th, 9:43.39), Ben Crain (80th, 9:46.08), Sawyer Shackleford (87th, 9:55.86), Carson Sanders (97th, 10:19.48), Hunter Evans (102nd, 10:31.73), Deacon Lisenbee (110th, 10:56.62), Jase Sargent (112th, 10:57.94), Jordan Sargent (116th, 11:15.95), Hunter Asher (124th, 11:58.01) and Brayden Perkins (125th, 12:08.53).
"What about the boys with a win? This was a huge meet, and they competed their tails off. The balance with that group is really solid." Harlan County coach Ryan Vitatoe said. "This was a big win for them, and I'm proud of them."
Harlan placed fourth overall. They were led by Cooper Thomas (7th, 7:14.05). Micah Shope (7:59.73) placed 23rd, while Aiden Browning placed 31st with a time of 8:13.23. Rounding out the results were Thomas Miller (36th, 8:24.14), Canaan Bolton (42nd, 8:32.06), Colt Sullivan (46th, 8:39.76), Kash Bailey (51st, 8:48.78), Mason Raleigh (57th, 9:01.12), Ben Parsons (63rd, 9:11.19), Kelton Dean (71st, 9:22.03), Connor Thomas (83rd, 9:50.88), Jett Luttrell (84th, 9:51.88), Andrew Alred (86th, 9:54.20), Toby Hensley (92nd, 10:05.17), Connor Niday (101st, 10:30.49), Braxton Sizemore (108th, 10:50.06), Saylor Crow (132nd, 13:12.40), Finn Lemar (143rd, 14:11.95), Nolan Niday (149th, 15:18.98) and Justyce Young (151st, 15:36.70).
"Our elementary boys team are making steady progress this year. This team is led by veteran runner, Cooper. Micah is proving to be a solid competitor," Harlan coach Anne Lindsey said. "Both help to lead our boys by setting a strong example through their work ethic and competitive drive."
Harlan girls defeated Lynn Camp by 27 points. Priscilla Stewart led the Dragons to victory, placing second overall with a time of 7:33.51. Zoe Lawson finished seventh with a time of 8:03.14, and Cora Jones (8:22.55) placed 12th. Other competitors for Harlan were Lillian Daniels (13th, 8:24.28), Mckenzie Petrey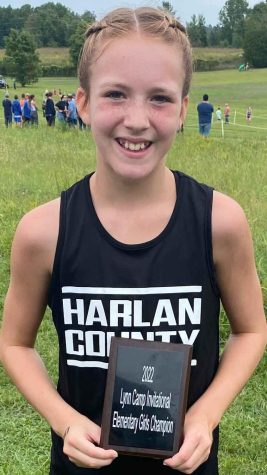 (15th, 8:30.67), Lillie Carver (19th, 8:43.36), Julianne Miller (26th, 8:56.03), Megan Lewis (32nd, 9:24.46), Shaedyn Crow (41st, 9:47.06), Rebecca Adams (55th, 10:26.53), Natalie Adams (56th, 10:27.31), Arianna Raleigh (57th, 10:28.15), Hannah Adams (60th, 10:33.14), Sophia Damaa 73rd, 11:18.81), Bella Lemar (96th, 13:08.82), Arwen Lemaster (101st, 13:56.97) and Tori Wattenberger (102nd, 13:59.28).
"Our elementary girls team placed first in an impressive show. Priscilla, Zoe, and Cora are veteran leaders. They work hard in practice and set a good example for our younger runners in this group. Lillian, McKenzie and Lillie are three strong, new runners that add depth to our young team." Lindsey said. "Coach Alred and I are extremely proud of the girls team and their work ethic."
Harlan County's Jaycee Simpson won the girls elementary race with a time of 7:24.72. Anna Gross finished 17th with a time of 8:37.51, while Annie Burton (8:55.27) placed 25th. Rounding out the results for Harlan County were Natalie Moore (37th, 9:40.87), Ella Brock (48th, 10:04.67), Alice Gross (51st, 10:14.22), Nevaeh Perkins (59th, 10:32.37), Charlotte Mitchell (72nd, 11:15.97), Madelyn Craig (76th, 11:27.48), Evva Hensley (83rd, 11:43.34), Paisleigh Asher (86th, 11:48.25), Peyton Sherman (88th, 12:02.93) and Nevaeh Stone (98th, 13:25.25).
"I'm so proud of our elementary kids. The coaching staff is working hard with that group, and they just keep improving." Vitatoe said. "Jaycee had another huge win, and the girls placing fourth in a field like this is a huge accomplishment."
Harlan County girls varsity placed fifth. They were led by Preslee Hensley, who placed 17th with a time of 23:40.39. Sophie Day finished 26th with a time of 24:44.49, while Aliyah Deleon (25:31.89) placed 36th. Other finishers were Kendall Brock (40th, 25:41.17), Kylie Jones (41st, 25:42.85), Olivia Kelly (44th, 25:52.37), Addi Gray (57th, 27:11.22), Lainey Garrett (70th, 31:51.49), Mary Gross (74th, 34:28.05) and Kaydie Coots (76th, 41:25.00).
"This was a regional preview with three of the top four teams on the boys side in attendance and the top four girls teams participating." Vitatoe said. "We were obviously shorthanded on the girls side without Peyton (Lunsford), but I thought our girls battled hard. Our packs are getting faster, and you can see the confidence begin to grow among the girls. I thought they ran very well."
Chloe Schwenke paced Harlan, placing 30th with a time of 24:53.70. Mia Pace finished 39th with a time of 25:39.76. Abbigaile Jones (28:09.94) placed 62nd.
Andrew Yeary (10th, 18:16.69) led Harlan County boys varsity, who placed sixth overall. Kaden Boggs finished 18th with a time of 18:44.85. Jacob Schwenke (19:33.14) finished 30th. Rounding out the results were Elijah Moore (37th, 20:10.16), Caleb Schwenke (47th, 20:59.73), Austin Crain (49th, 21:04.79), DaShaun Smith (55th, 21:48.56), Hunter Smith (75th, 21:48.56), Bradley Brock (81st, 25:24.21), Jonavan Rigney (82nd, 25:29.39) and Caden Craig (94th, 34:05.00).
"The boys also ran really well. We are learning how to race, and I'm seeing improvement every single meet. Once we learn how to close out our race, we will take the next step in our progression," Vitatoe said.
Harlan boys varsity placed 10th overall. They were led by Dylan Cox (20:14.75) who finished 39th. Brayden Howard placed 54th with a time of 21:47.54, while Evan Bargo (22:55.27) finished 65th. Other finishers for Harlan were Sayed Damaa (86th, 26:09.81), Connor Collins (90th, 30:04.28) and Seth Coogle (92nd, 33:24.00).
"Our boys are improving each race. Several of them who are in their first season of running had better times today," Lindsey said.
Tanner Daniels led Harlan County, winning the boys middle school race overall. He also broke his own school record, finishing with a time of 10:31.45. Drew Sergent and Luther Gross finished eighth and tenth with a time of 11:59.54 and 12:02.86, respectively. Xavier Farley (15:31.99) finished 41st.
"Our middle school kids continue to improve as well. Tanner is establishing himself as one of the best middle school runners in the entire state. He keeps getting better every week." Vitatoe said. "Drew has shown rapid improvement in every race as well."
Harlan's Michael Lindsey (17:37.67) finished 49th. Landon Traylor placed 55th with a time of 25:17.58.
Harlan County's Gracie Roberts led Harlan County, finishing fourth and breaking her own school record with a time of 14:16.31. Kiera Roberts and Autumn Farley finished 10th and 13th with times of 14:58.62 and 15:59.46, respectively.
"When you look at our girls, Gracie, Kiera and Autumn, all three have improved by minutes each race." Vitatoe said. "To have school records set in both middle school races is quite an accomplishment."
Harper Carmical led Harlan in the girls middle school race, placing second with a time of 13:05.68. Juliana Damaa (17:13.85) finished 21st .
Both teams will be back in action in an all-comers meet at Harlan County on Sept. 20.