Cox, Carmical lead strong showings for Harlan at Berea Invitational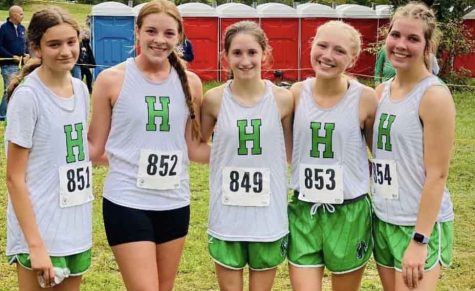 With Harlan County's runners taking a weekend off to recuperate from nagging injuries, it was up to the Harlan cross country team to represent the area Saturday at the Berea Invitational.
Harlan promoted a couple of middle school runners for the girls varsity race, a move that paid off with a 12th place team finish in the large meet.
Harlan was led by Harper Carmical, who finished 36th in her first varsity race with a time of 23:03.88. Chloe Schwenke (24:09.38) placed 52nd. Mia Pace finished 78th with a time of 25:35.97. Other finishers for Harlan were Abbigaile Jones (81st, 25:42.34) and Juliana Damaa (118th, 28:59.06).
"In the girls varsity race, Harper Carmical and Juliana Damaa made their varsity debut. Both girls did well. Harper is a strong runner and we anticipated she would perform well." Harlan coach Anne Lindsey said. "Veteran runners Chloe Schwenke and Abbie Jones both had personal records today. Chloe continues to consistently improve her time each race."
Dylan Cox (19:03.56) led the Harlan boys (18th as a team), placing 33rd overall. Brayden Howard finished 85th with a time of 21:26.15, while Evan Bargo (124th) finished with a time of 23:52.91. Rounding out the results for the Dragons were Sayed Damaa (148th, 26:23.03), Connor Collins (155th, 30:07.81) and Seth Coogle (157th, 32:00.06).
"The boys varsity also continues to improve. Dylan Cox ran a great race with a new personal record." Lindsey said. "Brayden [Howard] has been working very hard this season. His dedication and hard work are showing results. He also had a PR today."
Harlan and Harlan County will be back in action this week at Bell County. The elementary races are set for Monday, with the middle school and varsity races slated to take place Tuesday.