Bell teams sweep SEKC championships
Lunsford, Miracle capture individual titles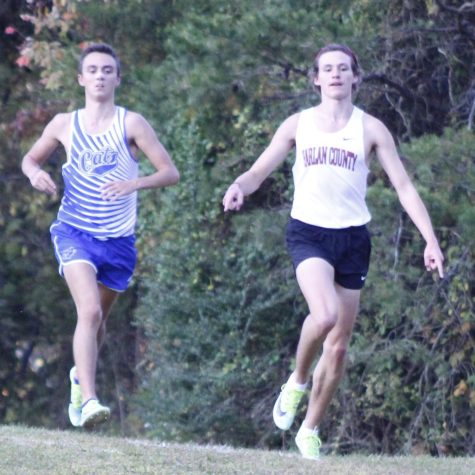 Tuesday's Southeast Kentucky Conference meet could have been an opportunity for Harlan County's girls cross country team to reassert its home course dominance. Instead, with Harlan County hampered by ongoing injury issues, it became a coming-out party for a neighboring upstart.
After floundering for most of the past decade, Bell County's girls claimed a narrow five-point victory over Harlan County to win their first SEKC title since 2010.
"We are still struggling to get healthy on the girl's side. I've put my full girls team on the line once since early September, and we still have a few who just got back that are trying to get their legs back under them," Harlan County coach Ryan Vitatoe said.
"I tip my cap to Bell County, they really wanted it and they took it to us. I'm going to work harder to have our girls ready for the regional meet in a few days, because the talent is most definitely there. We just have to get everyone to the line in one piece and ready to roll."
Harlan County sophomore Peyton Lunsford was the individual champion, posting a winning time of 21:46.34. Preslee Hensley (fifth, 23:53.88) and Kendall Brock (eighth, 24:30.69) also finished in the top 10 for the Lady Bears. They were followed by Kylie Jones (15th, 26:06.50), Addi Gray (21st, 26:54.28), Olivia Kelly (23rd, 27:24.56), Aliyah Deleon (25th, 27:57.47), Taylor Clem (30th, 30:30.47), Lainey Gross (31st, 31:55.59) and Mary Gross (32nd, 32:10.54).
Harlan finished fourth in the race, led by seventh-grader Harper Carmical, who came in third with a time of 23:16.50. Chloe Schwenke (25:06.93) was 11th, followed by Abbigaile Jones (18th, 26:33.56) and Mia Pace (19th, 26:35.31). Rounding out Harlan's results were Juliana Damaa (26th, 29:10.50) and Halle Cox (27th, 29:50.56).
"We are very proud of our runners' performance during the SEKC Championship," Harlan coach Anne Lindsey said. "We've seen a lot of individual improvement on (Harlan County's) course this season. I'm excited to watch these teams grow in the coming years."
Bell used a solid pack running approach, placing all five scorers in the top 15. Sophia Good led the Lady Cats with a fourth-place finish and a time of 23:38.31. She was followed by Jasmine Clouse (sixth, 23:57.72), Milka Woodring (ninth, 24:52.41), Ava Harris (13th, 25:43.22) and Lilly Nolan 14th, 26:02.72). Also participating for Bell were Kaylin Hickey (22nd, 27:07.56) and Meredith Allen (28th, 29:57.97).
"Our girls ran great today," Bell County coach Jason Stewart said. "Winning the girls title for the first time since 2010 is big for our program. These girls are special. They don't care who leads, they run together and push each other. They have their sights set on making it to state, and I think they'll be in a good position to do just that."
Williamsburg was third in the girls race.
Defending Class 2A state champion Caden Miracle led Bell to the sweep as the boys won their second consecutive conference title, slipping past Harlan County by five points in that race as well.
"I'm proud of our kids. The boys did everything they needed to do to win, and just came up short against a Bell County team who is ranked in the top 7 in AA. I thought we battled hard and competed our tails off," Vitatoe said.
Senior Andrew Yeary paced the Black Bears, finishing second and posting a time of 17:47.44. Tanner Daniels (18:31.84), Kaden Boggs (18:45.72) and Jacob Schwenke (19:03.12) finished fourth, fifth and ninth, respectively. Rounding out the Bears' results were Caleb Schwenke (21st, 20:41.18), Austin Crain (22nd, 20:49.81), Drew Sergent (23rd, 21:32.09), DaShaun Smith (32nd, 24:14.78), Jonavan Rigney (35th, 25:23.94) and Caden Craig (41st, 36:42.75).
"While losing is never our goal, I'm proud of how hard they competed. This group is a tough group of guys and I always know I'm getting their best when they take the line," Vitatoe said.
Harlan came in fifth in the boys race. The Dragons were led by Dylan Cox (15th, 19:52.88) and Brayden Howard (25th, 21:42.09). They were followed by Evan Bargo (31st, 23:38.06), Connor Collins (37th, 27:51.78), Sayed Damaa (39th, 29:53.03) and Seth Coogle (40th, 31:01.62).
Miracle, a senior, won the race with a time of 17:20.84 to lead Bell. Nicholas Stewart was third, posting a time of 18:05.56. Rounding out Bell's results were Reese Arno (seventh, 18:48.09), Johanan Woodring (11th, 19:22.78), James Arno (12th, 19:31.69), Nathan Miracle (14th, 19:47.38), Jacob Brannon (16th, 19:55.78), Hayden Green (17th, 19:59.28), Braydin Hickey (20th, 20:28.69) and Landon Eldridge (34th, 24:53.56).
"The boys ran well today. Harlan County really pushed them but they were able to still hang on," Stewart said. "We have a great group of boys, with four seniors and some very talented underclassmen. They've been in several close races over the years, and that experience pulled them through. Region is coming fast, and I think they are ready to make that run for state."
Williamsburg was third, followed by Leslie County.
Harlan County will travel to Bourbon County on Saturday for the Kentucky Track and Cross Country Coaches Association Meet of Champions, while Harlan will run in the Cave Lake Fall Classic at Wayne County.